Home
FLORENCE HARTMANN TRIAL ENDS
Noting that the French journalist deliberately published the information about the Appeals Chamber's confidential decisions, in his closing argument the prosecutor amicus curiae called for a fine ranging from EUR 7,000 to 15,000. The defense qualified this approach as 'legal fundamentalism', saying that the prosecutor amicus curiae was trying to 'mislead' the Trial Chamber. The defence called for Florence Hartmann's acquittal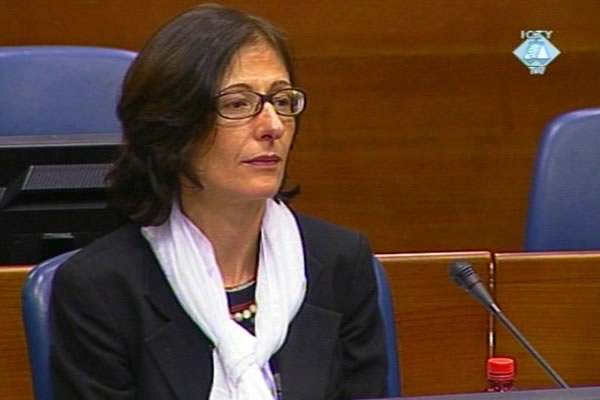 Florence Hartmann in the courtroom
The two parties delivered their closing arguments today, ending the trial of French journalist Florence Hartmann on contempt of court charges. She was indicted for disclosing information on the Appeals Chamber's confidential decisions in the Slobodan Milosevic case. Those decisions granted confidential status to documents originating from FRY Supreme Defense Council during the war in BH. In her book
Peace and Punishment
and in an article written for the Bosnian Institute, Florence Hartmann published the information that such decisions were issued. In addition, she expressed her opinion that it was done to hide key documents about the involvement of Serbia in the genocide in BH from the public and the International Court of Justice where BH filed a suit against Serbia under the Genocide Convention.
According to Canadian lawyer Bruce MacFarlane, acting as the prosecutor
amicus curiae
, the 'Florence Hartmann case' is very simple. For MacFarlane, there is no doubt that Hartmann wrote the incriminating book and article and that she disclosed the information on the confidential decisions 'deliberately and not by chance or negligence'; Hartmann's actions constituted 'obstruction of justice'. MacFarlane nevertheless doesn't think that a prison sentence would be appropriate in this case; a fine ranging from EUR 7,000 to 15,000 would be appropriate, he said.
This attitude of the prosecutor
amicus curiae
was described in the closing statement by Karim Khan, one of Florence Hartmann's defense lawyers, as 'legal fundamentalism' and an attempt to 'mislead' the judges. Khan pointed to 'the disappointing behavior' of the Canadian lawyer who, despite his role as an independent prosecutor
amicus curiae
, tried hard to ensure a conviction 'besmirching' the leading world experts in the field of freedom of speech and human rights who gave evidence for the defense and 'belittling' the importance of freedom of speech and protection of victims' rights.
As the defense counsel noted, the accused French journalist disclosed information that had already been available to the public at least two years before the incriminating book and article were published. Nobody instituted proceedings against the New York Times, International Herald Tribune and other reputable media outlets that covered the issue: 'Florence Hartmann was the only target'.
Calling for the acquittal of the French journalist of all charges, defense counsel Khan asked the Trial Chamber to 'resist the attempt of the prosecutor
amicus curiae
to rule differently'; in Khan's view any other decision would 'have a terrifying effect on the right to and freedom of speech, the right of victims and others supporting the fundamental principles' contained in the resolution establishing the Tribunal.
Concluding the hearing, presiding judge Moloto indicated the Trial Chamber would communicate its decision to the parties later. Apart from the South African judge Moloto, judges Guney from Turkey and Liu from China are in the Trial Chamber hearing the Florence Hartmann case.
Photos