Home
FLORENCE HARTMANN FILES NOTICE OF APPEAL
Florence Hartmann's defense has filed notice of appeal against the judgment finding the French journalist guilty of contempt of court and fining her EUR7,000. The appeal has 13 grounds, noting more than 120 errors of facts and law the Trial Chamber made, according to the defense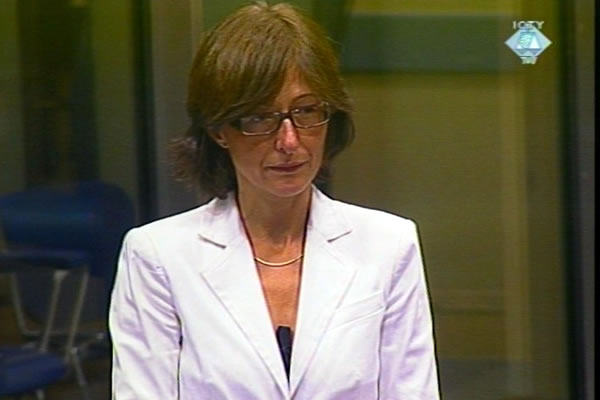 Florence Hartmann in the courtroom
The defense counsel representing French journalist Florence Hartmann today filed their notice of appeal against the judgment sentencing former OTP spokesperson to a EUR7,000 fine for 'deliberately and consciously publishing the contents, alleged effects and confidential character' of two decisions the Appeals Chamber rendered in the Slobodan Milosevic case, granting confidential status to some documents from the FRY Supreme Defense Council.
In some 40 pages of the notice, in 13 grounds of appeal, handed to the press today, the defense has noted more than 120 errors in fact and law the Chamber allegedly made in the judgment. The most glaring error, according to the defense is failure of the Chamber to apply "existing, internationally-recognized, standards of international human rights law related to the right to timely and detailed notice of the charges, right to presumption of innocence, principle of legality in particular as regard the requirement of strict and non-expansive interpretation of the definition of a criminal offence and the freedom of expression in regard to both Hartmann's freedom of expression and that of the public in particular victims to receive that information".
The defense also claims that Florence Hartmann was denied right to a fair and impartial trial, in particular in light of the fact that the trial proceeded on the basis of pre-trial decisions taken by two judges who were later disqualified and replaced. The defense urges the Appeals Chamber to take into full account the 'systematic failure of the Trial Chamber to apply those rights and ensure they are protected'.
The Trial Chamber's errors have individually and in conjunction resulted in "a miscarriage of justice or invalidated the judgment', according to the defense.
The Defense seeks the reversal of the Trial Chamber's finding that Florence Hartmann is guilty of two counts of contempt of court and her "full and complete acquittal of all charges".
The defense has at the same time moved that the payment of the fine imposed by the Trial Chamber be deferred until the final judgment.