Home
PROSECUTION REFUSES FURTHER REDUCTIONS TO KARADZIC'S CASE
After giving careful consideration to the judges' suggestions for further 'reductions' of the indictment against Radovan Karadzic, the prosecution concludes that the suggested reductions would gain little time and lose a lot in terms of a fair presentation of a case that had led to the founding of the Tribunal in The Hague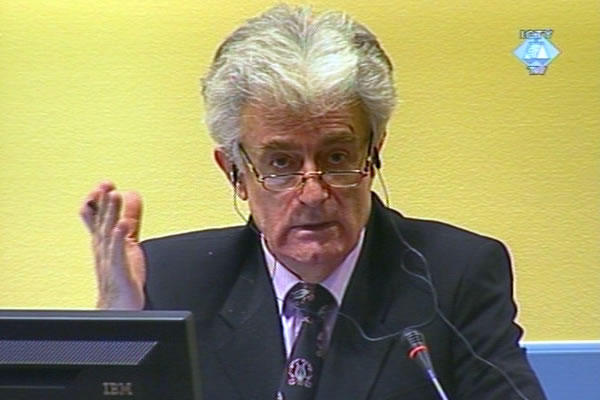 Radovan Karadzic in the courtroom
The reductions of the indictment against Radovan Karadzic proposed by the Trial Chamber recently would bring negligible time savings, but would have a negative impact on the ability of the prosecution to present its case, the OTP notes in its motion, made public today. This is why the prosecution opposes any further reductions of the case against the former Republika Srpska president, charged with genocide and other crimes between 1992 and 1995 in Bosnia and Herzegovina.
At the last status conference, the Trial Chamber with Judge O-Gon Kwon presiding suggested to the prosecution several ways in which the current indictment could be reduced in scope. In February, the indictment was already substantially reduced. This time, the judges suggested that the prosecution might drop the charges for opportunistic killings in Srebrenica in 1995, the Markale massacre in February 1994, and might reduce the number of municipalities for the ethnic cleansing charges from 18 to 10 or 12.
Having given careful consideration to the judges' suggestions, the prosecution concluded that the reductions would gain little time and lose a lot in terms of a fair presentation of one of the key cases before the Tribunal, the kind of cases that the Security Council had in mind when it established it. Reminding the judges that the Office of the Prosecutor is acting on behalf of the international community and the victims, the prosecution notes in its motion that it would not be in the interests of a fair and expeditious trial if the prosecution were to be hampered in the presentation of the case which should reflect the gravity and scope of Karadzic's alleged criminal conduct, all because of the restrictions imposed by the court schedule.
The judges demanded additional reductions to the Karadzic case because the Tribunal's completion strategy demands that the trial should not take longer than two and a half years; the prosecution would have a year to call its evidence. This will not be possible if the trial will go on for 3.5 hours a day, three or four days a week, as planned. The prosecution has calculated that it would be able to complete its case in the allotted time, but only if the court were in session five days a week, 41 weeks a year, given that the examination-in-chief of prosecution witnesses should take a bit more than 250 hours. The cross-examination, judges' questions and administrative issues would then take up the remaining 470 hours. Furthermore, if the court could sit the whole day, as has happened in other cases, the Karadzic trial could proceed even more expeditiously.
The ball is now in the judges' court. If they want it, they can 'reduce' the prosecution case themselves.