Home
HOW KARADZIC SEES HIS TRIAL
The prosecution and Radovan Karadzic have submitted to the Trial Chamber their proposals for the way in which the trial should proceed. The accused has asked that his legal adviser and case managers be present in the courtroom, and that the Chamber inquire of the protected witness whether he or she wishes protective measures to continue and for what reasons. Karadzic will deliver his opening statement at the start of the trial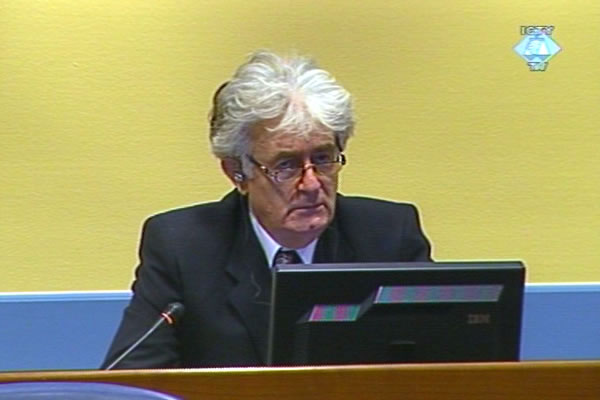 Radovan Karadzic in the courtroom
In their replies to the invitation of the Trial Chamber the prosecution and the accused set forth their proposals on the way in which, in their view, the upcoming trial should proceed. The former Republika Srpska president is charged with genocide and other crimes in BH.
In the second sentence of his motion, Karadzic stresses that he is not ready to proceed to trial; his motion is based on the presumption that the Appeals Chamber would grant him adequate time to prepare for trial. The trial was scheduled to begin on 19 October 2009 and Karadzic immediately filed an appeal against the decision. The accused, who is representing himself, asked that his legal advisor Peter Robinson be allowed to sit in the courtroom and address the Trial Chamber on legal matters. Karadzic would thus be able to 'concentrate on factual issues". Karadzic also requested the presence of two case managers and another legal associate.
Karadzic also indicated he would like to deliver his opening statement at the beginning of the trial; He requests that he be allocated the same amount of time as the
prosecution for his opening statement. Karadzic asked for more money for his legal advisors during the trial. He wants the prosecution witnesses to come to The Hague 'sufficiently in advance' to be interviewed by the defense before giving evidence.
The accused also demands that the protected witnesses declare before beginning their evidence whether they still want to protective measures and why. Karadzic wants to be given enough time to cross-examine the witnesses, although he is aware that 'the time can't be unlimited'. Finally Karadzic requests that the Trial Chamber establish conditions of the trial which will "allow both sides to facilitate the Trial Chamber's arriving at the truth about what happened in Bosnia. This, Karadzic concludes, would require 'both wisdom and patience'.
The prosecution's proposal doesn't diverge from the usual practice at the Tribunal. The party calling the evidence, according to the prosecution's proposal, should submit every other Wednesday a list of witnesses scheduled to give evidence in the next two weeks. If the trial proceeds for only three days per week, it would be good if the hearing schedule would be established two weeks in advance, the prosecution asked.
The prosecution also noted that the Trial Chamber had already taken judicial notice of a number of adjudicated facts, leading the prosecution to drop some witnesses for the time being. If during the trial Karadzic calls evidence to challenge the adjudicated facts, the prosecution will reserve its right to call those witnesses.