Home
KARADZIC CAN APPEAL, BUT TRIAL WILL NOT BE POSTPONED
The Trial Chamber with Judge Kwon presiding granted Karadzic leave to appeal against the decision to open the trial on 19 October 2009. However, Karadzic's motion to postpone the trial was rejected pending the decision of the Appeals Chamber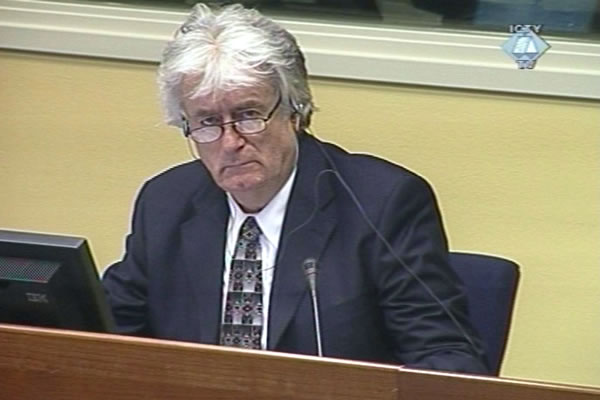 Radovan Karadzic in the courtroom
The Trial Chamber, with Korean judge O-Gon Kwon presiding, granted Radovan Karadzic leave to appeal against the decision to start his trial on 19 October 2009. Claiming that he was not given enough time to prepare his defense, Karadzic said in his motion seeking leave to appeal that he 'cannot accept to take part in the trial that will be unfair from the very beginning'.
The judges concluded that Karadzic's motion had met the legal requirements for interlocutory appeals submitted before the end of the proceedings: firstly, because it pertains to the issues key for the fairness and expeditiousness of the trial, and secondly, because the Appeals Chamber's ruling on the issue might expedite the proceedings, and prevent irreparable damage that might ensue if the contested decision of the Trial Chamber would prove to be wrong.
Karadzic's request to postpone the trial until the final decision of the Appeals Chamber was rejected. Postponing the trial at this point in time, the Trial Chamber concluded, would be 'premature' as the Appeals Chamber could rule on Karadzic's appeal prior to 19 October 2009. This is why it is in the interest of both parties to continue with preparations, with 5 October 2009 as the target date for the pre-trial conference, and 19 October as the scheduled trial date.