Home
HOW TO REDUCE THE SCOPE OF KARADZIC'S TRIAL
As ordered by the Pre-Trial Chamber, the OTP tonight proposed ways in which the scope of the trial of former Bosnian Serb leader Radovan Karadzic may be reduced. The prosecution has decided not to remove any of the counts in the indictment, warning the judges that it would be 'neither desirable nor necessary" and "contrary to the interests of a fair and expeditious trial'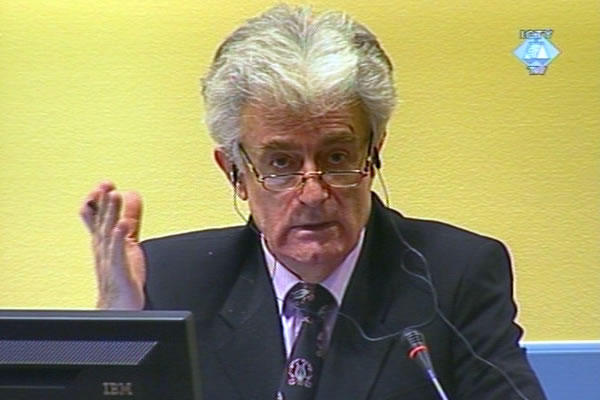 Radovan Karadzic in the courtroom
In compliance with the Pre-Trial Chamber's order, the prosecution submitted tonight its proposal for the reduction of the scope of its case against former Republika Srpska president Radovan Karadzic. Instead of removing individual counts in the indictment, the prosecution proposes not to call a number of witnesses and not to present certain evidence on the incidents in some municipalities and sites where crimes were committed.
The prosecution proposed not to call 38 witnesses whose evidence is partially covered by 766 adjudicated facts from the trials dealing with the same crimes Karadzic is charged with. The prosecution also proposed not to call 28 witnesses whose evidence is cumulative to evidence of other witnesses. A total of 66 of those witnesses are still on the prosecution's 'reserve list' and would be called to give evidence only if Karadzic decided to challenge adjudicated facts or issues they were supposed to testify about.
In order to secure expeditious presentation of evidence, the prosecution intends to implement the Tribunal's rules allowing previously given statements of witnesses and transcripts of their earlier testimony to be admitted into evidence. The prosecution has suggested that 152 witnesses be heard in this manner. This would reduce the time needed for the examination-in chief of prosecution witnesses to 293 hours, the motion goes on to specify. According to an estimate in July 2009, the prosecution case was to take 490 hours.
If the Pre-trial Chamber considers it necessary to order a reduction of the scope of prosecution's case, the prosecution proposes to reduce its presentation of certain evidence in ten municipalities: Banja Luka, Bosanska Krupa, Bosanski Petrovac, Brcko, Cajnice, Donji Vakuf, Kalinovik, Kotor Varos, Ilijas and Visegrad. This however doesn't apply to the crimes in the camps in Manjaca and Luka in Banja Luka, and in Brcko. The prosecution notes that with these changes, it would take 23 hours less for it to complete its case.
The prosecution has nevertheless asked for permission to call evidence on the incidents in the ten municipalities if the evidence is relevant to prove general elements of the crimes Karadzic is charged with - the objective and methods of the joint criminal enterprise, degree of coordination and cooperation of individuals and institutions that are allegedly part of the joint criminal enterprise, the widespread or systematic nature of the alleged crimes and the role, intent and knowledge of the accused about crimes.
In the prosecution's view, bearing in mind the structure of the indictment and the interlinking of the charges, it would be 'neither desirable nor necessary" and "contrary to the interests of a fair and expeditious trial' to remove any of the counts in the indictment, once the proposed reductions have been done."Any further reductions, may result in an indictment that is no longer reasonably representative of the case as a whole and would negatively affect prosecution's ability to fairly present its case", the prosecution concluded.