Home
TRIAL START UNCERTAIN, INDICTMENT UNCHANGED
At a pre-trial conference in the Radovan Karadzic case the judges have announced the trial will start on 21 October 2009 if the Appeals Chamber rejects the appeal of the accused by 14 October 2009. If the Appeals Chamber fails to reach a decision by then, the trial will be postponed. The judges refrained from further cutting down the indictment against Karadzic, opting instead to impose strict limits on the time for the prosecution case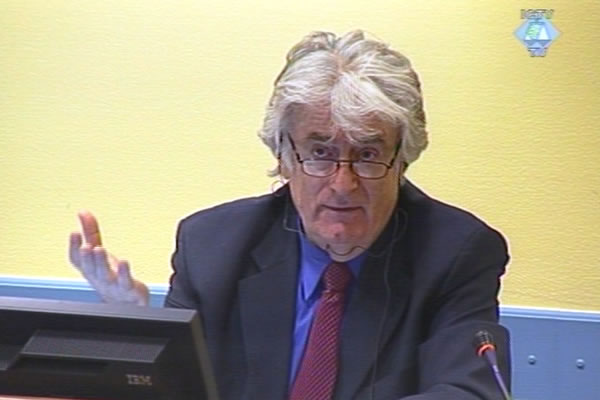 Radovan Karadžić u sudnici Tribunala
After the pre-trial conference in the Radovan Karadzic case today, the trial date is still uncertain. The former Republika Srpska president Karadzic is charged with genocide and other crimes in BH from 1992 to 1995.
The beginning of the trial will depend on the decision on the appeal filed by Radovan Karadzic seeking additional time to prepare his defense. If the Appeals Chamber doesn't rule on that appeal by 14 October 2009, the Trial Chamber 'would have to consider postponing the trial', presiding judge O-Gon Kwon said today. The Trial Chamber will, however, continue working on the assumption that the trial will open as scheduled. For administrative reasons the trial was rescheduled for 21 October, instead of 19 October 2009.
The most important decision at the pre-trial conference concerns the scope of the indictment against Karadzic. The judges expressed their 'disappointment' with the prosecution's refusal to recommend further reductions in the indictment. Although the judges noted their 'concern' over the scope of the case, they nevertheless did not exercise their right to cut the indictment down by dropping some incidents or locations Karadzic is charged with.
Instead, the Trial Chamber decided to limit the time the prosecution would have for its case. The prosecution was granted 300 hours for the examination-in chief and re-examination of all its witnesses including those named on the reserve list.
At the pre-trial conference, the parties discussed the motion of the accused, who is representing himself, that his legal advisor Peter Robinson be granted permission to address the Trial Chamber on legal matters. The prosecution has nothing against Robinson and other advisers being present in the courtroom. However, the prosecution objects to them being permitted to address the court because only legal counsel have the right to do that, not advisers. If the accused believes that he cannot address the Trial Chamber on both legal and factual matters, then he should appoint his defense counsel, the prosecutor said. Judge Kwon indicated that the Trial Chamber would rule on the motion soon.
[IMAGE]4357[/IMAGE]Today Karadzic appeared for the first time before the Trial Chamber hearing his case, albeit not in its full complement: presiding judge Kwon was joined by Judge Howard Morrison and back-up judge Flavia Lattanzi. The fourth member of the Trial Chamber, Judge Melville Baird decided not to attend the pre-trial conference pending the decision of a three-member panel considering Karadzic's motion to disqualify Judge Baird because of his 'advanced age'.