Home
DEFENSE: ACCUSATIONS AGAINST MILETIC AND GVERO REMAIN 'UNPROVEN'
In their closing arguments, the defense of generals Radivoje Miletic and Milan Gvero condemned the prosecution's 'amending of the indictment during the trial'. Asking for their acquittal, the defense argued that the accusations against their clients remained unproven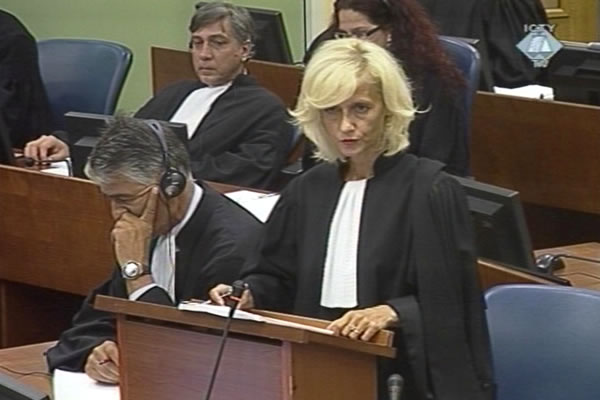 Nataša Fauveau, branilac Radivoja Miletića
The prosecution has failed to prove beyond reasonable doubt the criminal intent of General Radivoje Miletic, his counsel Natasa Fauveau said at the end of her closing argument, asking the Trial Chamber to acquit the chief of operations in the VRS Main Staff of all charges.
Fauveau also told the judges their task was not to hand down a judgment on 'all of the RS Army or the Main Staff and not even on the chief of the operations department and training, but only on General Miletic', an officer who 'had no influence on decision-making and on the commander of the Main Staff Ratko Mladic'.
[IMAGE]4308[/IMAGE]The defense of General Milan Gvero, assistant commander for morale, legal and religious affairs in the VRS Main Staff, joined Miletic's defense in the condemnation of the prosecution's 'amending the charges during the trial'.
The prosecution has failed to prove General Gvero's responsibility for restricting the flow of humanitarian aid to the population in the Srebrenica and Zepa enclaves, the defense claimed. According to the prosecution, Gvero thus contributed to the implementation of the joint criminal enterprise aimed at the permanent elimination of the Muslim population from the enclaves.
Gvero's participation in the drafting of Directives Four and Seven remained unproved, the defense went on to say. The prosecution has alleged that the goals of the joint criminal enterprise were set out in the two directives. Furthermore, as defense counsel David Josse stressed, not only there is no evidence that Gvero took part in the drafting of the Directive Seven, nothing has indicated that he even knew about it.
The defense reminded the Trial Chamber that General Gvero, who suffered from ill health, was the oldest detainee not only at the trial but also in the UN Detention Unit. 'Our client is not guilty and that will be the right decision on all counts in the indictment', the defense counsel stated on behalf of Milan Gvero, urging the judges to 'make sure that Gvero, if convicted, doesn't die in prison'.
The defense of the last of the seven military and police officers charged with crimes in Srebrenica and Zepa, former commander of the VRS Zvornik Brigade Vinko Pandurevic will deliver its closing argument next week. The prosecution indicated it would exercise its right to reply to some of the arguments put forward by the defense. The accused Drago Nikolic and Milan Gvero will then address the Trial Chamber, as they have requested.