Home
APPELLATE HEARING IN 'SREBRENICA FIVE' CASE SCHEDULED
The appellate hearing in the case against Bosnian Serb military and police officers convicted for the crimes in Srebrenica and Zepa in 1995 will take place from 2 to 13 December 2013, as has been announced at the Tribunal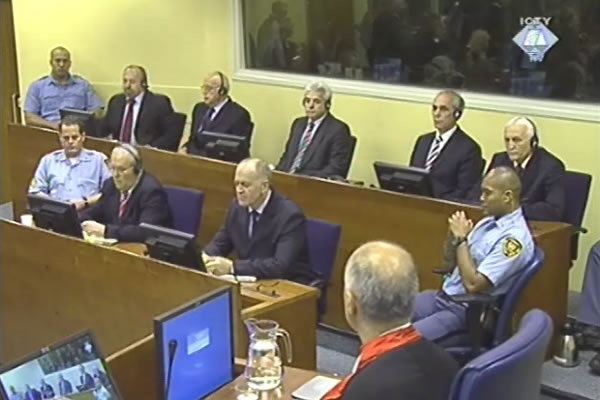 Vujadin Popovic, Ljubisa Beara, Drago Nikolic, Ljubomir Borovcanin, Vinko Pandurevic, Radivoj Miletic and Milan Gvero in the courtroom
The appellate hearing in the case against the five VRS officers convicted for the crimes in Srebrenica and Zepa was initially to take place early this year. It appears it will be held before the end of 2013 after all. The pre-appellate judge Patrick Robinson today ordered the hearing to take place from 2 to 13 December 2013, before the start of the Tribunal's winter recess. The prosecution and the defense teams of the five military and police officials will present their arguments in support of their appeals.
The order was disclosed exactly two months before the date of the hearing, to meet the request submitted at a status conference by the defense lawyers representing Drago Nikolic and Ljubisa Beara. Nikolic, former security chief in the Zvornik Brigade, was sentenced to 35 years while former security chief in the VRS Main Staff Ljubisa Beara was sentenced to life in prison.
In its 2010 judgment, the Trial Chamber also sentenced Vujadin Popovic, chief of security in the VRS Drina Corps, to life in prison. Radivoje Miletic, chief of operations in the VRS Main Staff, was sentenced to 19 years, while former commander of the Zvornik Brigade Vinko Pandurevic got 13 years in prison. Ljubomir Borovcanin, who commanded the police units in the Srebrenica operation, didn't appeal against his 17-year sentence. As the prosecution did not appeal either, Borovcanin's sentence became final.
After the death of Milan Gvero, Mladic's former assistant for morale, religious and legal affairs in the VRS Main Staff, the appellate proceedings in his case were suspended. The trial judgment in Gvero's case – sentencing him to five years in prison – thus also became final.