Home
PROSECUTION: LIFE SENTENCE FOR THE SREBRENICA SEVEN
Life sentence is the 'only punishment that can be sought for these accused', the prosecution argued as it continued with the closing argument at the trial of Bosnian Serb military and police officers charged with crimes in Srebrenica and Zepa. The defense of Vujadin Popovic denied the responsibility of the Drina Corps security officer, calling for his acquittal of all charges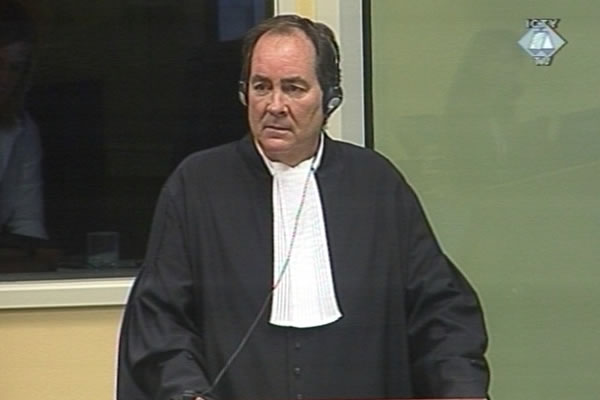 Peter McCloskey, vođa tima optužbe na suđenju sedmorici oficira vojske i policije bosanskih Srba, optuženih za zločine u Srebrenici
Prosecutor Peter McCloskey concluded his brief addition to the prosecution closing argument today by specifying the punishment the prosecution sought for Ljubisa Beara, Vujadin Popovic, Ljubomir Borovcanin, Drago Nikolic, Vinko Pandurevic, Milan Gvero and Radivoje Miletic. According to the prosecution, 'the only punishment that can be sought for these accused is life sentence'. The defense teams of the seven Bosnian Serb military and police officers charged with crimes in Srebrenica and Zepa took the floor with their closing arguments.
[IMAGE]3478[/IMAGE]Vujadin Popovic's defense then went on to deliver its closing argument, asking for the acquittal of the former chief of security and intelligence in the VRS Drina Corps of all charges of genocide and other crimes in Srebrenica and Zepa in the summer of 1995.
The defense contends that the prosecution failed to prove that Popovic participated in the joint criminal enterprise aimed at eliminating the Muslim population from the two enclaves. The prosecution also failed to prove that Popovic took part in the murder of prisoners and was present at the executions, the defense maintained. In the defense's view, the prosecution was guided by the evidence of witnesses who purportedly recognized the accused Popovic at execution sites. The evidence is unreliable and does not fit the description of the accused who, contrary to what some prosecution witnesses said, is 'neither tall nor attractive'.
[IMAGE]3453[/IMAGE]Contrary to what the prosecution argued, Popovic was not in charge of coordinating the military police in the Drina Corps, his defense counsel Zoran Zivanovic maintained. In the defense's opinion, such claims are based on a misinterpreted VRS document about the treatment of prisoners of war. Popovic only forwarded 'instruction and not an order' to the military police to 'keep prisoners as far as possible from sensitive military facilities' which might be a source of information for the enemy.
The defense argues that Popovic's primary duty in the Drina Corps was counter-intelligence, denying that in July 1995 Popovic was in charge of security of prisoners of war and refugees. Popovic never dealt with issues of physical security and transport of refugees from Potocari, as the prosecution had claimed. Popovic was in Potocari only on 12 July 1995; his task was solely to provide counter-intelligence security to General Ratko Mladic.
Finally, the prosecution has erroneously concluded that Popovic harbored 'an almost pathological hatred towards Muslims', the defense noted. According to the defense, the claim is contradicted by the testimony of a defense witness that he 'saw tears in Popovic's eyes' after the execution in Bisina.
The defense teams continue with their closing arguments tomorrow; the defense of Ljubisa Beara, former chief of security in the VRS Main Staff, will have its turn first.