Home
SREBRENICA 'FIVE' BEFORE APPEALS CHAMBER
Over the next ten days, the Appeals Chamber will hear the oral arguments of the parties on the appeals of the defense and the prosecution against the trial judgment in a Srebrenica trial. Vujadin Popovic, Ljubisa Beara, Drago Nikolic, Radivoje Miletic and Vinko Pandurevic were found guilty of genocide and other crimes committed in July 1995 in Srebrenica and Zepa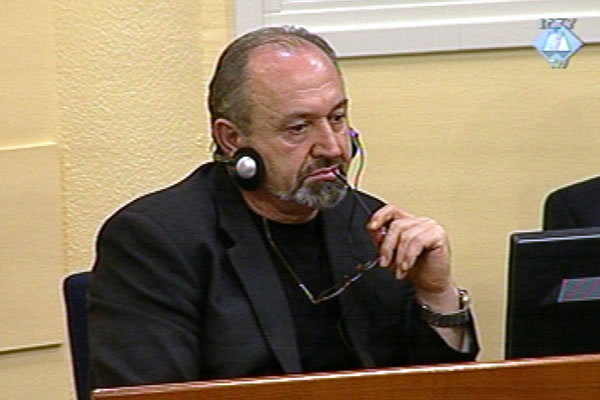 Vujadin Popovic in the courtroom
The appellate hearing in the case of the five convicted officers of the Republika Srpska Army began with the oral arguments of Vujadin Popovic's defense. In its judgment in 2010, the Trial Chamber found the former security chief of the VRS Drina Corps guilty of genocide in Srebrenica and Zepa. Popovic was sentenced to life in prison.
In ten grounds of appeal, Vujadin Popovic contested the facts and legal findings in the trial judgment, asking the Appeal Chamber to quash his conviction on all counts in the indictment. Alternatively, Popovic asked for a re-trial. As Popovic's defense counsel Zoran Zivanovic argued, the Trial Chamber erred when it concluded that the plan to murder the prisoners from Srebrenica existed as early as on 12 July 1995, because it relied only on the evidence of Momir Nikolic. Zivanovic argued that Nikolic had lied in his evidence. The former Bratunac Brigade security chief made a deal with the prosecution, pleaded guilty to the crimes he was charged with and was sentenced to 20 years.
Popovic's defense alleges that the testimonies of all other witnesses who had made plea agreements with the prosecution for the crimes in Srebrenica were unreliable. Some of those witnesses testified with measures to protect their identity or in closed sessions. 'Significant contradictions in their evidence' and the fact that they agreed to 'incriminate other' participants in the VRS Srebrenica operation in order to get the prosecution to agree to the deals prove that they didn't tell the truth, argued Vujadin Popovic's defense.
In his response to the defense arguments, the prosecutor stressed that Popovic's defense failed to show any evidence or facts to corroborate its demand for the trial judgment to be quashed. The defense counsel merely repeated the elements of the defense case aired at trial. In the opinion of the prosecutor, the findings of the Trial Chamber in the Srebrenica Five case 'should be given a lot of weight'. The Trial Chamber's conclusion that Popovic 'with his persistent and energetic participation contributed significantly to the operation of killing of the Srebrenica prisoners' was reasonable, the prosecutor noted. Popovic 'was at the very heart of the operation in which thousands of Bosnian Muslims were killed and forcibly expelled, while survivors bore permanent emotional and mental scars', the prosecutor noted at the end of his presentation. It was right to convict Popovic of persecution, murder, extermination and genocide.
According to Popovic's defense counsel, the prosecution in its response didn't offer any arguments that would render Popovic's trial judgment 'immune from review'.
At the end of the hearing, the defense of Ljubisa Beara began presenting arguments in support of his appeal. Beara was also found guilty of genocide and also got a life sentence.
Photos