Home
DEFENSE: 'DEFORMED EVIDENCE' OF THE PROSECUTION
Ljubomir Borovcanin's defense described the prosecution claims about his responsibility as mere 'guesswork'. In her closing argument, Radivoje Miletic's counsel noted the 'prosecution has been unable' to prove her client's responsibility for the crimes in Srebrenica and Zepa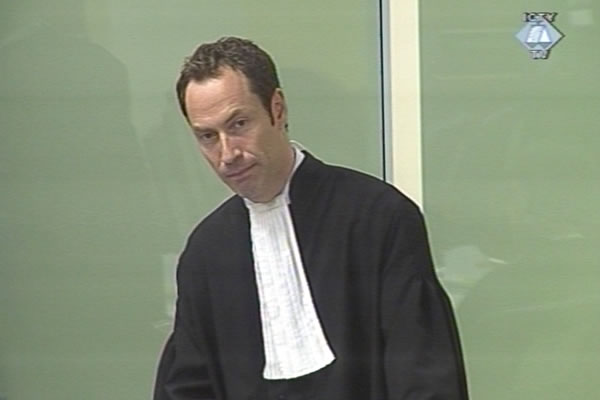 Christopher Gosnell, branilac Ljubomira Borovčanina
'The prosecution claims are little more than guesswork', Ljubomir Borovcanin's defense counsel contended in the conclusion of his closing argument. The defense argues that the prosecution failed to prove beyond reasonable doubt that the former commander of the joint police troops deployed in the Srebrenica operation in the summer of 1995 was 'involved in the conspiracy to commit mass murder'. The prosecution has likewise been unable to prove that Borovcanin participated in the operation to forcibly transfer the Muslim population of Srebrenica and Zepa out of the enclaves.
[IMAGE]4307[/IMAGE]The prosecution's closing argument and its final brief are, in the words of Radivoje Miletic's defense, 'best proof of the prosecution's inability' to prove the responsibility of the accused general. In 1995, Miletic was chief of operations in the VRS Main Staff. As Natasa Fauveau, Miletic's counsel said, the prosecution based both the closing argument and the final brief on 'deformed evidence', 'arbitrary interpretations' and 'patently false conclusions'.
The claim that General Miletic, as the operations officer in the VRS Main Staff, coordinated the actions of the VRS troops deployed in the operations in Srebrenica and Zepa – in other words that he implemented the plan of the joint criminal enterprise to eliminate the Muslims from the Srebrenica and Zepa enclaves – is one such false conclusion.
The prosecution has charged Miletic not only with implementing that plan but also with contributing to its creation by drafting the text of the famous Directive 7 of the RS President. That Directive orders the troops to, 'employ daily planned and well thought out combat activities to create conditions for the people in Srebrenica and Zepa to feel totally insecure, unbearable and without prospects for the future'.
In the course of its case, the defense has tried to prove that the controversial sentence from the Directive was added to the text in Radovan Karadzic's office. Miletic disagreed with that change, the defense has claimed. The prosecution hasn't called sufficient evidence to prove the opposite, Miletic's counsel argued.
In the closing argument, Miletic's counsel noted that at the very end of the trial the defense had managed to obtain documents showing that before the operations in Srebrenica and Zepa there had been no stopping blocking of convoys en route to the enclaves. The prosecution charged Miletic with this, too. According to the defense, the number of convoys had in fact increased. The defense regretted not having obtained those documents earlier, and urged the judges to carefully consider the witness testimonies and other evidence called by the prosecution in an effort to prove Miletic's responsibility for the blocking of humanitarian aid.
After the Radivoje Miletic's defense presented its closing arguments, General Milan Gvero's defense will take the floor tomorrow.