Home
WHAT 'RESPONSIBLE BEHAVIOR' OF A JOURNALIST IS
On the third day of the trial of Florence Hartmann for contempt of court, freedom of speech expert Louis Joinet completed his evidence. Natasa Kandic, director of the Humanitarian Law Center in Belgrade, began her testimony. The trial continues on 1 July 2009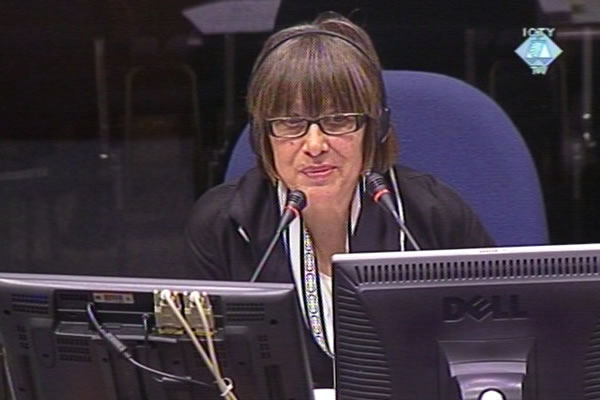 Natasa Kandic, defence witness of Florans Artman
Can a journalist decide that a court order is no longer confidential? Is publishing confidential information an example of 'responsible' behavior of a journalist?
Prosecutor amicus curiae Bruce MacFarlane insisted on those issues in his cross-examination of Louis Joinet, French expert on the freedom of speech, testifying in Florence Hartmann's defense. Hartmann is charged with contempt of court because in her book Peace and Punishment and an article written for the Bosnian Institute she disclosed the existence of decisions of the Appeals Chamber granting the confidential status to documents of the Supreme Defense Council in FR Yugoslavia.
As for the first question, Joinet replied that naturally it was the duty of a journalist to collect and publish information; it was up to the prosecutor to establish if any crimes were committed in the course of the journalist's actions and to decide whether to prosecute the journalist. 'Judges cannot both indict and try people', Joinet said alluding to the fact that in the Florence Hartmann case judges were at the same time the injured parties, prosecutors and judges.
As for the second question – whether disclosing confidential information can be seen as 'responsible' behavior of a journalist – Joinet first said that it was up to the prosecutor to decide 'if it is responsible or not'. Judge Moloto didn't like the answer and wanted the witness to reply with a yes or no. 'In that case', Joinet retorted, 'I have to reply as if I were a journalist: it is responsible. Otherwise it would be a case of self-censorship'.
After the French freedom of speech expert, the defense called Natasa Kandic, director of the Humanitarian Law Center in Belgrade. A long time before Florence Hartmann published the incriminating book and article, Kandic said, the media and the NGOs in Serbia had been discussing extensively and openly the Supreme Defense Council documents and the demand of the Serbian authorities to hide parts of those documents lest they should be used before the International Court of Justice in the BH vs. Serbia Montenegro case.
As early as in 2005, it was openly said at conferences, public debates and in the media that the documents proved Serbia's role in the war in BH, the dependence of the VRS on the VJ and the involvement of Serbian military and police forces in the Srebrenica operation in July 1995. Some Serbian politicians claimed credit for the 'sealing' of the documents at the Tribunal, boasting that they had protected national interests and prevented Serbia from being held responsible for the crimes in BH.
Natasa Kandic will continue her evidence on 1 July 2009; it is expected that the trial of the former OTP spokesperson will be completed then.