Home
PRALJAK: PROSECUTION GOT IT ALL WRONG
HVO was an integral part of the BH Armed Forces, commanders had no effective control over the units, security services, military police, health care and information and propaganda service were under the jurisdiction of the Defense Department headed by the accused Stojic, not of the Main Staff. The accused Praljak and Petkovic both served as commanders of the Main Staff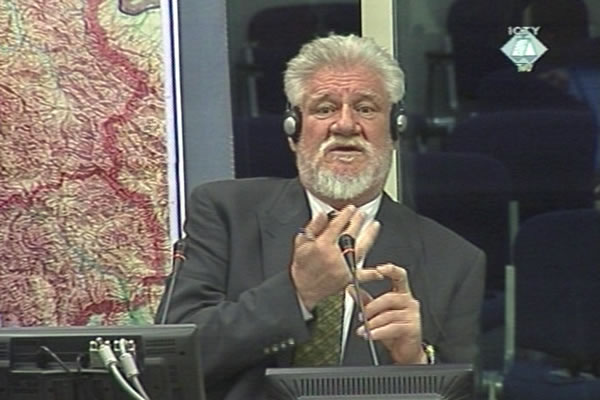 Slobodan Praljak svjedoči u svoju odbranu
General Milivoj Petkovic's defence continued the cross-examination of Slobodan Praljak, trying to prove that the HVO was an integral part of the BH Armed Forces, that commanders had no effective control over some units and that the security services, military police, health care and information and propaganda service were under the jurisdiction of the Defense Department headed by the accused Bruno Stojic and not the Main Staff.
General Praljak, who succeeded Petkovic in the summer of 1993 as commander of the HVO Main Staff, repeated what he has been saying so far: that the HVO was a recognized army which defended BH, and that Croats 'unlike the BH Army' worked intensively at establishing a joint command. Praljak himself contributed to those efforts with his 'huge energy and passion', as he said.
Petkovic's defense tried to corroborate its argument with a series of documents where the HVO is described as a constituent part of the BH armed forces with equal rights. However, as the documents mostly referred to the HVO in Tuzla, Zenica, Sarajevo and other places under the control of the BH Army, it remained unclear if the same went for the HVO in Herzegovina and Central Bosna, where the Croat-Muslim conflict actually broke out.
Petkovic's defense put it to Praljak that 30 June 1993 was the watershed in the Croat-Muslim relations: this was the day when 'the Muslims in the HVO ranks committed high treason' as they decided to join the BH Army. Praljak confirmed this, repeating that the BH Army then launched 'an open aggression' against Herceg Bosna. That, in Praljak's view, means that there was no joint criminal enterprise put together by the Bosnian Croat leaders and President Tudjman, as alleged by the prosecution. It was 'exactly the opposite', he claims.
Petkovic's lawyer Vesna Alaburic indicated that 'according to the current plan', the accused Milivoj Petkovic would also testify in his own defense. Petkovic plans to give his evidence at the end of his case.
Petkovic's defense will complete the cross-examination of general Praljak next week. The accused will then be cross-examined by the defense of Valentin Coric, former chief of the HVO military police department.