Home
SLOBODAN' PRALJAK'S NEW FILM
As his examination-in chief draws to a close, General Slobodan Praljak puts on a premiere of yet another of the short feature films he directed in Zagreb in preparation for the trial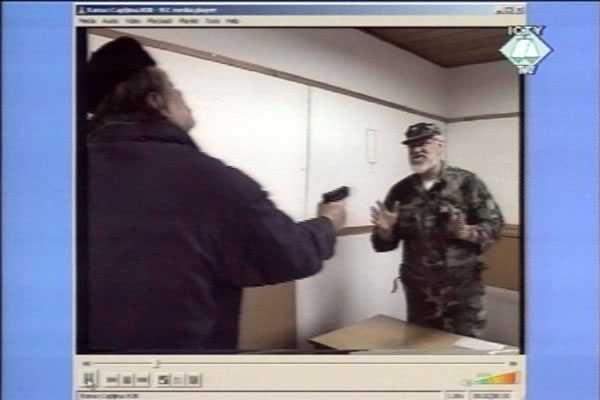 Scena iz novog filma Slobodana Praljka
As his evidence today drew to a close, General Slobodan Praljak put on a premiere of yet another of the short feature films he had directed while on provisional release in Zagreb in preparation for his defense at the trial of former Herceg Bosna leaders. In an effort to show the judges 'what it was really like in the field' the former commander of the HVO Main Staff, who was a director before the war, showed his first film two weeks ago. The film shows how he treated the HVO soldiers who fled the front lines near Travnik in late 1992.
In Praljak's second film, Bosnian Croat played by Croatian actor Zvonimir Zoricic enters into the HVO headquarters in Rama, threatens Praljak with a gun and asks for 30,000 German marks as compensation for his house that was burned down. As in the previous film, Praljak plays himself, and admittedly is very convincing. After this premiere, the judges had no questions for Praljak. Prosecutor Douglas Stringer merely asked Praljak's defense counsel to repeat the exhibit number for the film so that he could put it on the list of exhibits the prosecution planned to contest.
In addition, Praljak today showed a documentary video of his address to the HVO soldiers in late 1992 in Zenica. On that occasion Praljak spoke of 'the idea of the Croatian nation' telling them that 'there is no smoking in line'. Praljak's defense brought up documents clearly showing that Praljak thought alcohol consumption was a 'major problem' in the HVO; Praljak reported those who were drunk on duty and punished them.
When asked what he did to punish those who committed crimes, Praljak coolly replied that he had done nothing as it was not in his jurisdiction. Swiss judge Stefan Trechsel noted that on many occasions Praljak 'was not authorized to do anything, but reacted nevertheless', asking the accused to clearly answer if he had done anything to prevent or punish crimes in the Prozor area. 'What can a man do to protect 60 villages', Praljak asked, repeating that he did all he could and that nobody did more than he did. 'I'm the best there is', Praljak claimed proudly.
The examination-in chief of former commander of the HVO Main Staff Slobodan Praljak will be completed on Monday. Praljak will then be examined by presiding judge Jean-Claude Antonetti.