Home
PRALJAK: I COULD HAVE FREED SARAJEVO
General Slobodan Praljak contends that in 1993 the siege of Sarajevo could have 'relatively easily' been lifted had Bosniak political and military leadership wanted it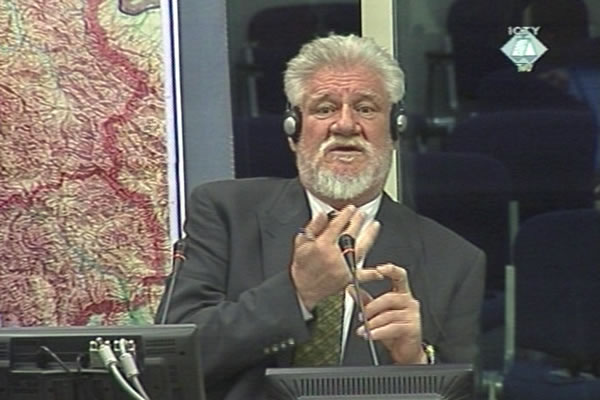 Slobodan Praljak svjedoči u svoju odbranu
As he continued his evidence, former commander of the HVO Main Staff Slobodan Praljak said that in 1993 it would have been easy to lift the siege of Sarajevo, but the Bosniak political and military leadership didn't want to do it, for two reasons. They were afraid that the people would flee once the siege was lifted and they could score political points with the international public with the city under siege.
Had there been political will, Praljak contended, the siege of Sarajevo could have been lifted 'relatively easily'. The BH Army and the HVO at half-strength could break through 'the thin Serb lines around Sarajevo'. It would in fact have been much easier than the liberation of the left bank of the Neretva river by the Croatian-Muslim HVO forces from the JNA. Praljak is aware that this is a 'strong claim' but is nevertheless ready to repeat it under 'a triple or even sevenfold solemn declaration'.
Praljak noted with a sneer that Sefer Halilovic, the first commander of the BH Army, launched his first big offensive, Neretva '93, when he attacked Herceg Bosna in September 1993. 'What about fighting the Serbs', the accused asked adding that the BH political and military leadership – and Praljak equates them with Muslims – preferred to turn against the weaker HVO 'in an attempt to grab as much territory and to reach the sea'.
Praljak went one step further contending that in the second half of 1993 Muslims joined in with Serbs in Herzegovina. Praljak reminded the judges of the joint declaration on the cessation of hostilities with Serbs, signed on 16 September 1993 by Izetbegovic and Krajisnik. Praljak corroborated this claim with two books authored by two former BH Army commanders, Esad Sejtanic and Ramiz Drekovic.
In his book
Herzegovina at the Fiery Gates of Bosnia
, Sejtanic describes how the BH Army attacked West Mostar with the artillery support by the VRS; Serbs were given a new Golf car in return for the favor. General Drekovic in his book writes that in January 1994 he toured the BH Army positions facing the Serbs. He was surprised to see that soldiers were just on guard duty there. As there were no combat operations against Serbs along the Prenj-Blagaj-Treskavica line, Praljak concluded, there could have been no siege of Mostar, contrary to what the prosecution alleges in the indictment.
Praljak quoted from the book
The Unsealed Envelope
by journalist Sefko Hodzic, in which he describes Operation Neretva '93 in detail. The book, as Praljak noted, claims that rules on wartime reporting were in force during the war: 'they always attack first, and we always defend ourselves'. That, Praljak emphasized, is yet another piece of evidence proving that the BH Army provoked the clashes and when the HVO responded, the BH Army would claim that they had been attacked.