Home
SHIFTING THE BLAME
General Vlastimir Djordjevic's defense has tried to prove that Djordjevic, as the public security chief in 1998 and 1999, had no authority over the police units in Kosovo. The defense has tried to shift the blame on the convicted General Sreten Lukic and the late interior minister Vlajko Stoiljkovic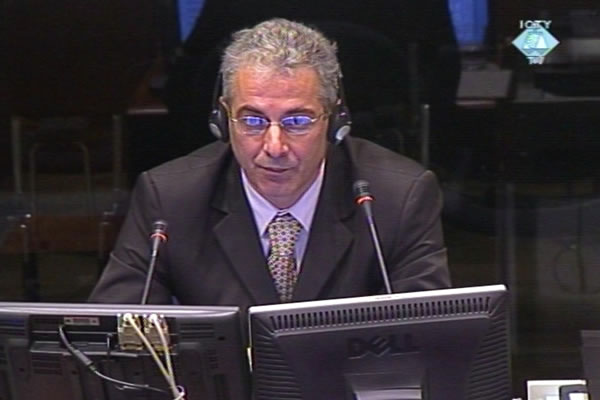 Žarko Braković, svjedok na suđenju Vlastimiru Đorđeviću
As the examination-in chief of Zarko Brakovic continued at the trial of General Vlastimir Djordjevic, the prosecution presented a series of minutes taken at the meetings of the MUP Staff for Kosovo asking to witness to comment on what was put to him. At that time Brakovic regularly attended the Staff meetings as the commander of the 124th Intervention Brigade of the PJP. In the statement he gave to the OTP investigators in 2004 Brakovic said that in Kosovo he saw the accused Vlastimir Djordjevic, who was a deputy interior minister and chief of the Public Security Department.
The minutes show that the other deputy interior minister – Obrad Stevanovic – often attended the meetings as did Djordjevic; Serbian president Milan Milutinovic and interior minister Vlajko Stoiljkovic attended those meetings less often. Various MUP activities in Kosovo were discussed at the meetings, including the so-called joint anti-terrorist actions of the army and the police. As the prosecution alleged, many crimes were committed against the Albanian civilians in the course of those actions. At the beginning of his cross-examination, Brakovic couldn't say with any certainty why Djordjevic and Stevanovic visited the province so often. However, Brakovic assumed that they may have wanted to get first-hand information about the situation in the field.
After the prosecution produced documents that clearly show the accused Djordjevic had deployed the PJP units in Kosovo, defense counsel Veljko Djurdjic tried to prove that it was not in Djordjevic's jurisdiction…at least not on paper. To corroborate this, Djurdjic showed the witness minister Stoiljkovic's decision on the establishment of the MUP Staff for Kosovo from 16 June 1998, saying that the Staff was responsible for the operation of all police units within the province and answered to the minister himself. That decision invalidated Djordjevic's order issued in May 1998 putting the MUP Staff under the Public Security Department jurisdiction. General Brakovic didn't deny the suggestions, in most cases saying tersely 'That's what is written here.'
Sreten Lukic and Vlajko Stoiljkovic were charged with the same crimes as Djordjevic. Lukic was sentenced to 22 years in February 2009 for his part in the joint criminal enterprise aimed at the expulsion of Albanian civilians from the province. Stoiljkovic committed suicide in Belgrade in 2002.
Zarko Brakovic's cross-examination continues on Monday.