Home
REASON FOR LEAVING – FEAR OF SERBS
Former teacher Qamil Shabani has described at the trial of General Vlastimir Djordjevic how his family and he were expelled from the village of Zegra near Gnjilane together with 1,300 other Kosovo Albanians. He and his family then fled to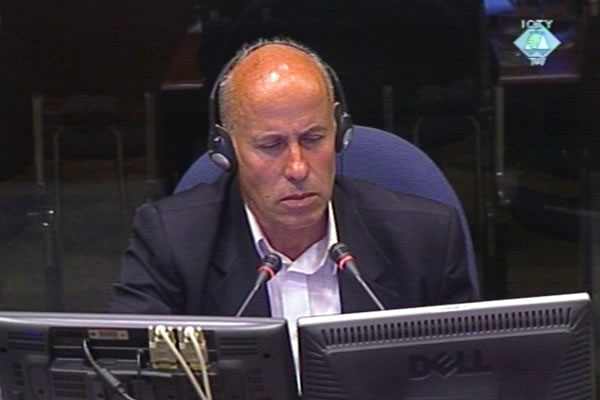 Qamil Shabani, svjedok na suđenju Vlastimiru Đorđeviću
After the evidence of a military insider who testified under the pseudonym K-54 on the deportations and killings of Kosovo Albanians in the spring of 1999, the trial of police general Vlastimir Djordjevic continued with the testimony of a former teacher from the village of Zegra near Gnjilane, Qamil Shabani. Shabani described how he and his family first took shelter in one of the neighboring villages when the NATO air campaign started and how they fled to Macedonia from there.
The summary of the statements the witness gave the investigators in 2001 and 2006 and the transcripts of his evidence at the trial of former Serbian president Milutinovic and five other Serbian officials for Kosovo crimes states that about 1,300 inhabitants of Zegra fled to the neighboring village of Donja Stubla on 28 March 1999. They were forced to leave by armed Serbs who first evicted all Albanians from their houses. After searching the people, they ordered them to leave the village.
When the witness arrived with his family to the village of Donja Stubla in southern Kosovo, the attacks began on the neighboring villages. Some 20,000 Albanian civilians gathered in Donja Stubla. The witness heard that many women and children were wounded in those attacks, and six men were killed. Shabani remained there until early May when he left with his family and 600 other people heading to Macedonia because food was scarce and they feared the army would enter the village.
On their way, the witness recounted, they were stopped by Serbian soldiers and paramilitaries; women and children were separated from men, and the witness was interrogated for some time. He was threatened by soldiers who insulted him and his people, as he put it. He thought he would be killed after that. Fortunately, this didn't happen and soon afterwards he crossed the Macedonian border together with the other Albanians from his group.
The defense counsel of former chief of Serbian police Public Security Department Vlastimir Djordjevic as usual devoted most of his cross-examination to less relevant issues such as the witness' family situation, walls around his house and who paid his salary while he worked in school. Again, the defense counsel didn't give the KLA a miss, despite the fact that Shabani, like many previous witnesses, said he had had other concerns at the time and didn't know anything at all about the activities of the KLA, a formation which, as the witness put it, fought for 'the liberation of Kosovo from the Serbian security forces'.