Home
EXPULSION OR FRIENDLY ADVICE
In his cross-examination at the trial of police general Vlastimir Djordjevic, former military police officer has maintained that members of his unit did not 'expel' Kosovo Albanians or 'ordered and forced them' to abandon their homes. Soldiers armed with automatic rifles just told them to 'leave in the direction of Djakovica'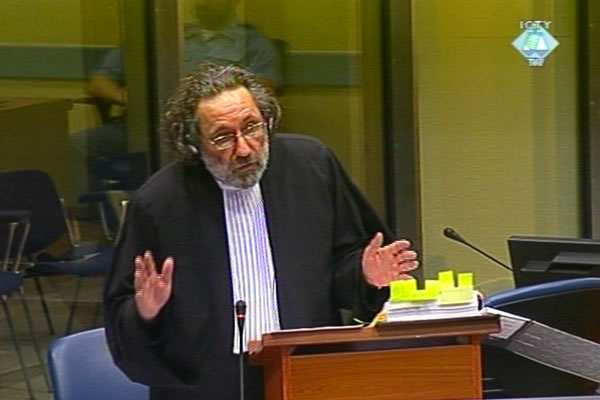 Veljko Đurđić, branilac Vlastimira Đorđevića
In his cross-examination of the prosecution witness testifying under the pseudonym K-90, the defense counsel of police general Vlastimir Djordjevic claimed that the prosecution investigator 'misinterpreted' what the witness said when he was taking his statement. Former member of the 2nd Battalion of the Military Police in the VJ 549th motorized Brigade claimed in his examination-in chief that the Albanian civilians from the Kosovo villages of Korenica and Meja were killed by members of the Serbian MUP Special Police Unit and a number of 'Frenki's men'.
In his evidence at the trial of the Serbian former political, military and police officials, who were charged like Djordjevic with crimes against Kosovo Albanians in the spring of 1999, the witness changed parts of the statements he gave to the OTP investigators. Although in his statement he contended that 549th Motorized Brigade personnel ordered the Albanians from villages around Djakovica to leave their homes, today he recanted, saying this claim was not true.
As the witness put it, the term 'order' was not translated correctly. 'It is one thing to order and force someone to leave, and quite another to tell them to leave in the direction of Djakovica', K-90 noted. According to the witness, this does not mean that the army expelled Albanians from Kosovo to Albania, but it 'all depends on how individuals interpreted the arrival of soldiers with automatic rifles'.
The witness went on to correct the part of his statement where he spoke about 'Frenki's soldiers'. As he stated today, the witness saw 'two persons wearing hats' who told him they were members of the Special Operations Unit under the command of Franko Simatovic. The witness contends that this was not a private army but part of the Serbian State Security.
The witness also changed the part of his statement where he spoke of the area around the villages of Korenica and Meja being surrounded; the indictment also alleges that. Today the witness said that the area was 'blocked off', not 'surrounded'.
General Djordjevic's trial continues tomorrow; the prosecution will call its next witness.