Home
HARTMANN URGES JUDGES TO 'RECONSIDER' HER CASE
According to Florence Hartmann's defense, the trial of the French journalist facing contempt of court charges 'would not only be unnecessary but would be tantamount to abuse of the process' because of many irregularities and abuses committed by Canadian MacFarlane, acting as the special investigator and prosecutor in this case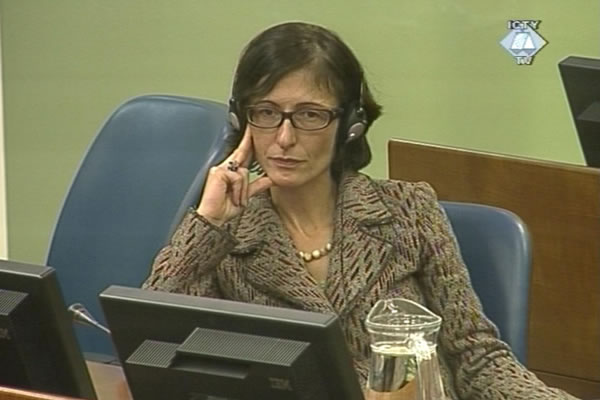 Florence Hartmann in the courtroom
Florence Hartmann's defense urges the Trial Chamber to reconsider her case and stay the contempt of court proceedings against her instituted after she disclosed information about the Appeals Chamber's confidential decisions in the Slobodan Milosevic case.
In the three motions – one of which is confidential – the defense counsel of the French journalist urge the judges not only to reconsider and dismiss the case; they call for the amicus prosecutor to be relieved of his duties and for a clarification of the confidential status of facts related to the case: the defense wants to know which facts can and which cannot be discussed in public. As the defense sees it, only the documents of the Supreme Defense Council are subject to the confidentiality order, unlike the 'legal reasoning' of the Appeals Chamber supporting the decisions to impose protective measures. All the facts whose disclosure lead to the indictment against Florence Hartmann are in the public domain and have been discussed in public documents released by the Tribunal, the defense alleges. The special investigator, however, misled the judges by 'failing' to bring this to their attention.
This is just one of many accusations levied by the defense counsel Karim Khan and Guenael Mettraux against Canadian Bruce MacFarlane, who was appointed by the Registrar first as the investigator and then as the amicus curiae prosecutor in this case. The defense believes his appointment was not regular. As an investigator, the defense notes, MacFarlane was 'neither independent nor impartial'; he 'misinterpreted his role and mandate' and conducted 'an inadequate investigation' full of 'procedural and substantive errors'. Moreover, MacFarlane failed to fully establish facts and to bring relevant documents to the attention of the judges.
The defense therefore calls for the termination of MacFarlane's mandate, noting that his continued involvement would lead to 'a serious conflict of interest'; MacFarlane as the prosecutor would have to fight tooth and nail to defend the errors he had committed as the investigator in the case. The defense wants to call MacFarlane as a witness. In its confidential motion the defense allegedly fully documented many of MacFarlane's abuses in the investigation of the French journalist and former spokesperson of the OTP.
Florence Hartmann's trial is scheduled for 5 and 6 February 2009. Noting that it would be 'not only unnecessary, but would be tantamount to abuse of the process' the defense called for the trial to be cancelled and for the judges to schedule a hearing where MacFarlane would be examined and evidence on his alleged abuses and flaws in the investigation would be called.
It remains to be seen whether the Trial Chamber will see the motions as an opportunity to dismiss the case seen by many at the Tribunal as unnecessary. Judge Agius is the presiding judge and other members of the Trial Chamber are judges Orie and Van Den Wyngaert.