Home
MILITARY OBSERVERS HIT BY MODIFIED AIR BOMBS
Dutch major Hubertus Bruurmijn claims that a modified air bomb, so-called 'sow', that hit the inhabited Hrasnica area in July 1995 was fired from the direction of Ilidza, an area controlled by the Sarajevo-Romanija Corps. UN military observers were among the thirteen persons injured in the attack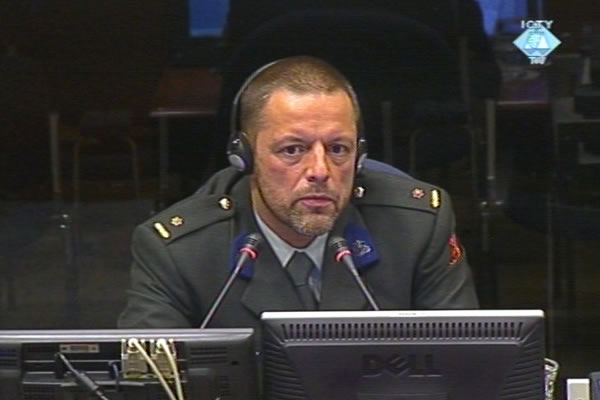 Hubertus Bruurmijn, svjedok na suđenju Momčilu Perišiću
On 2 July 1995, UN military observer Hubertus Bruurmijn analyzed the crater where a modified air bomb exploded the night before. It hit a garage in the residential part of the Hrasnica neighborhood in Sarajevo. According to the indictment charging former chief of VJ General Staff Momcilo Perisic with a 'substantial contribution' to the crimes in Sarajevo, thirteen persons were injured in the incident. UN military observers were among those injured.
By analyzing the bomb crater, the Dutch major was able to conclude that the projectile had been launched from Ilidza, territory controlled by the VRS Sarajevo-Romanija Corps. As Bruurmijn noted, there were no military targets near the place of impact. However, 'the FAMOS factory was in the same line of fire'; the 'BH Army manufactured ammunition' there, the witness explained.
In an attempt to prove that the SRK members had at their disposal modified air bombs before July 1995 and were able to launch them from the Ilidza area, the prosecutor showed the witness an order signed by the Corps commander General Dragomir Milosevic in April 1995. Milosevic ordered the Ilidza Brigade to prepare a modified air bomb launcher and set the target at Hrasnica or Sokolovic Kolonija to create 'as many casualties and as much material damage as possible'.
In his cross-examination, the defense counsel drew attention to the conclusion that the modified air bomb first hit a position, then bounced and caused damage at a spot 150 meters away. This conclusion was based on the fact that rockets were found in one place, and the remains of the modified air bomb in another, the witness explained. However, he could not corroborate his claim since the 'Bosnian police did not permit him to investigate the place where the rockets had fallen', the witness added.
At the General Milosevic's trial, the prosecution argued that modified air bombs were filled with fuel made in the Nuclear Science Institute in Vinca near Belgrade. As the indictment against General Perisic alleges, the Sarajevo-Romanija Corps received substantial support in personnel, money and logistics from Belgrade.
Tomorrow's hearing has been rescheduled for Monday morning because the next prosecution witness has health problems.