Home
YUGOSLAV ARMY – MLADIC'S 'RESERVE FORCE'
The order to deploy parts of the Guards Brigade and special units of the Yugoslav Army in December 1993 in BH must have come from the General Staff, General Borivoje Tesic has said in his evidence at the trial of Momcilo Perisic. In radio and telephone communications, the VJ forces were to be called the 'reserve troops of the VRS Main Staff', confirmed the insider witness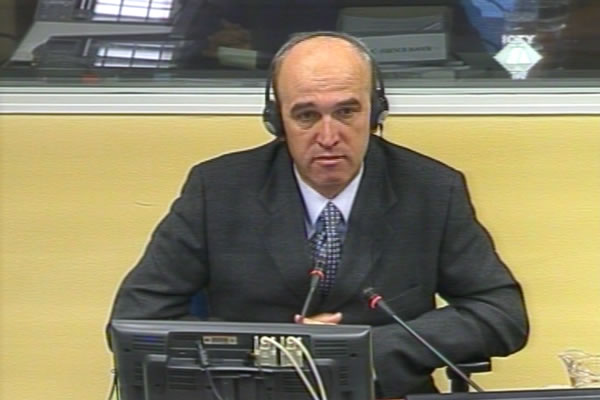 Borivoje Tesic, witness in the Momcilo Perisic trial
In his examination-in chief, General Borivoje Tesic, former operations officer in the Guards Brigade staff, said that he 'assumes' that parts of the VJ Special Units Corps were sent to 'an internationally recognized and independent state', Bosnia and Herzegovina, on 30 December 1993 on the orders from the VJ General Staff. At that time, the General Staff was headed by General Momcilo Perisic, now on trial for providing personnel, logistic and financial support to the VRS and SVK forces, 'contributing significantly' to the siege of Sarajevo, the rocket attack on Zagreb and the capture of Srebrenica.
According to Tesic, the Guards Brigade's task was to 'help with the pull-out of the VJ 72nd Special Brigade, the take-over of the bodies of dead soldiers and the stabilization of parts of the frontlines held by the VRS Vogosca Brigade'. As alleged in the indictment against Perisic, the operation codenamed Pancir 2 was carried out under the command of Dusan Stupar, commander of the VJ 72nd Special Brigade. The operation targeted the 'Betanija medical center'.
Referring to a document signed by Stanislav Galic, commander of the VRS Sarajevo-Romanija Corps, Tesic said that eight members of the 72nd Special brigade were killed in Operation Pancir 2, launched on 27 December 1993. The take-over of the bodies was one in the period from 14 to 28 January 1994, when the Guards Brigade was sent back to Belgrade.
Tesic said that the Guards Brigade sent daily reports to the operations center of the Special Units Corps. Tesic 'assumes' that the reports were forwarded to the superior command, the VJ General Staff. There was a communication line open between Vogosca and Belgrade, and Tesic believes it was 'probably' used.
Most of General Tesic's examination-in-chief proceeded in closed session because of the confidentiality of the documents tendered into evidence by the prosecutor. In open session, an order issued by Manojlo Milovanovic, deputy commander of the VRS Main Staff on 25 December 1993, was discussed. Milovanovic's order prohibits 'the use of the term 'VJ units' in telephone communication'. Instead, 'VJ troops should be treated as if they were the reserve of the VRS Main Staff', Milovanovic ordered.
The death certificate of Goran Galjak, commander of the 72nd Special Brigade, was admitted into evidence. Galjak was killed in the 'Vogosca area' on 27 December 1993. Another document tendered into evidence was an application for benefits filed by Milan Popovic, member of the 2nd Motorized battalion, who was 'hit by a sniper in the right pelvic bone' in January 1994, again in the Vogosca area. General Tesic continues his evidence tomorrow.