Home
MILITARY GUEST WORKERS
At the trial of general Momcilo Perisic, former JNA officer recounts how the VJ 30th Personnel Center 'took care' of military personnel who remained in BH after the JNA withdrawal during the war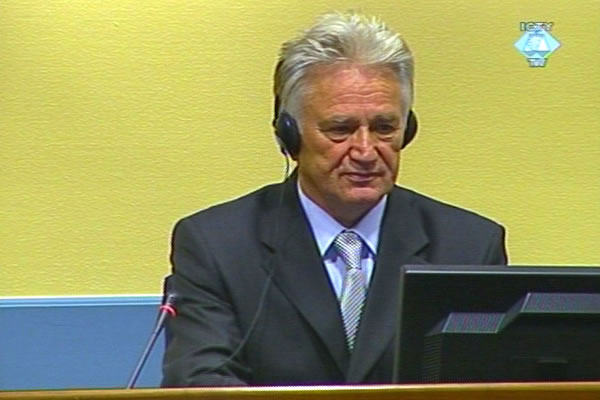 Momcilo Perisic in the courtroom
Former member of the VRS testifying at the trial of general Momcilo Perisic under the pseudonym MP 005 said today that his position in the Bosnian Serb army was regulated through the military post 3001 – the VJ 30th Personnel Center located in Belgrade. The purpose of the 30th Personnel Center, the witness believes, was to 'take care' of all professional military personnel that remained in Bosnia after the JNA withdrew in 1992.
The witness' military ID card, tendered into evidence by the prosecution, contains all data about his active military service, places of residence and ranks he was given in the VJ as a member of the VRS. According to his card, the witness was stationed in the military post VP 3001 in Belgrade. He, however, denied it saying that he was in Banja Luka in Republika Srpska all the time.
The witness confirmed that during his time in the VRS he remained on the VJ payroll and in the pension fund. Although the document regulating his war-time service was issued by the RS, another document tendered into evidence by the prosecution indicates that the witness was entitled to file an appeal to the VJ Supreme Military Court against the decision on his years in service.
The witness said that the 30th Personnel Center heard his appeal in which he requesting that the time from 6 April to 10 November 1993 be counted double because he 'served in harsh, war conditions'. The VJ General Staff granted his request for hardship benefit noting that the 'all commissioned and non-commissioned officers, civilians and soldiers assigned to in the VRS' would receive the increased salary.
In order to emphasize the link between the VRS, SVK and the VJ, the prosecutor showed the witness two documents relating to the cooperation of the three armies. As the witness clarified, the documents were part of the data exchange exercise pertaining to the air space of the VRS, SVK and the VJ.
According to the indictment, General Momcilo Perisic, chief of VJ General Staff, made decisions about the establishment and functioning of the 30th and 40th Personnel Centers. Their purpose was to 'cover up the fact that VJ officers were seconded to the VRS command via the 30th Center, and to the SVK via the 40th Center'. Perisic is accused of providing personnel, material and logistic support to Serb armies in Bosnia and Croatia, and 'significantly contributing' to the crimes perpetrated by the soldiers and officers serving in those armies in Sarajevo, Srebrenica and Zagreb.