Home
SARAJEVO IN THE PALM OF MLADIC'S HAND
Aernout Van Lynden, former Sky News TV war correspondent, described what he saw and recorded in Sarajevo in 1992. He filmed the destroyed and burned buildings and the Sarajevans injured and killed in attacks. He also taped an interview with Ratko Mladic, who told him that he had ' Sarajevo in the palm of his hand'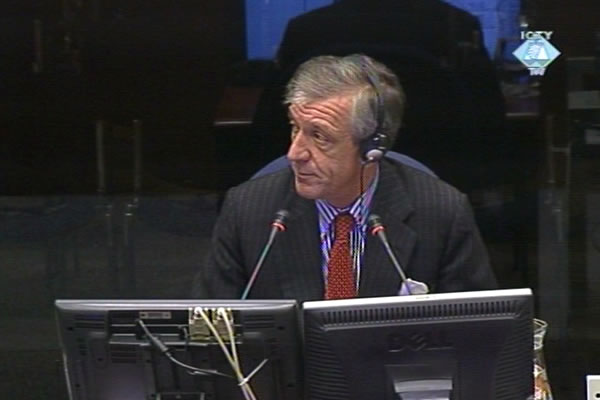 Aernout van Lynden, witness in the Perisic trial
The first prosecution witness called at the trial of Momcilo Perisic, Aernout Van Lynden from Holland, described today what he saw and experienced in Sarajevo in 1992 where he worked as a war correspondent for the Sky News TV. Perisic, former chief of the VJ General Staff, is charged with providing personnel, material and logistic support to the Bosnian Serb troops for the shelling and sniper campaign in Sarajevo from August 1993 when he was appointed as the chief of the VJ to the end of the war in November 1995.
Through Van Lynden's evidence, the prosecution wants to show the widespread and systematic nature of attacks launched against the civilian population of Sarajevo, highlighting the fact that Perisic knew the support he had provided to the VRS contributed to the commission of the crimes in Sarajevo. As the prosecution alleges, Perisic had information that his subordinates had either already committed crimes or were about to commit them; despite that he failed to do anything to prevent or punish them. The defense objected to the relevance of Van Lynden's evidence noting that the events he referred to in his testimony remained outside of the timeframe covered by the indictment. The judges decided to hear the former journalist adding that the defense, if it considers his evidence irrelevant, might later ask that it be stricken from the record.
Van Lynden came to Sarajevo in March 1992; he and his crew were housed in the former military hospital. From there he could see almost entire city. Over the next few months he and his cameraman recorded dozens of stories covering the shelling and sniper attacks against Sarajevo and its citizens. Some of them were shown today in court; they were played already at the trials of Slobodan Milosevic and Stanislav Galic.
Van Lynden met Radovan Karadzic, political leader of Bosnian Serbs, several times and in the fall of 1992 he was granted permission to come to Pale with his TV crew. He filmed the artillery positions from which Sarajevo was shelled and recorded an interview with the first man of the VRS, Ratko Mladic. Mladic told Van Lynden that he had 'Sarajevo in the palm of his hand'. In the footage showed today in court, Van Lynden described Mladic as 'man who feels no remorse, no doubt; a man sure that he is right and the world around him wrong and that his people are wrongly accused'. 'I hope that the UN Security Council will take measures to make it clear that we, Serbs, exist in this world for real, that we are not some aliens; that we have the right to defend ourselves', Mladic told the Sky News.
Aernout Van Lynden continues his evidence on Monday afternoon.