Home
FLORENCE HARTMANN TRIAL SET TO START
The trial of French journalist on contempt of court charges for disclosing information about confidential decisions of the Appeals Chamber will be held on 5 and 6 February 2008. Hartmann has requested that all correspondence between Geoffrey Nice, former prosecutor in the Milosevic case, and UN secretary-general Ban Ki-Moon regarding her book Peace and Punishment be disclosed to her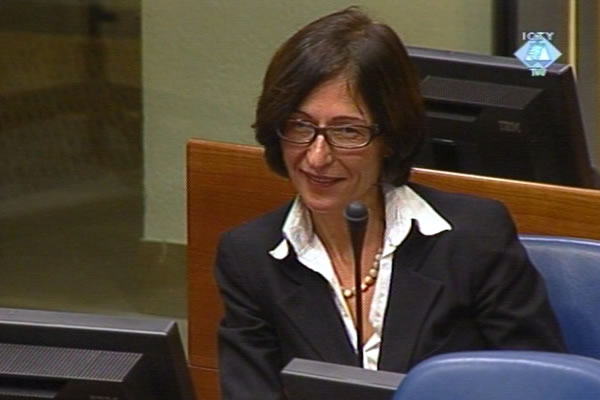 Florence Hartmann in the courtroom
The trial of French journalist Florence Hartmann on contempt of court charges – she has disclosed information regarding confidential decisions of the Appeals Chamber in the Slobodan Milosevic case – is scheduled to take place on 5 and 6 February 2008.
According to the indictment issued in August 2008 by the judges instead of the prosecutor, in her book
Peace and Punishment
and in an article entitled
Vital Genocide Evidence Concealed
Florence Hartmann disclosed the fact that the Appeals Chamber had made a series of confidential decisions confirming the protective measures for documents originating from Milosevic's Supreme Defense Council and rejecting the prosecution request for their disclosure to public. The judges, it seems, didn't like the conclusion of the French journalist that those documents were concealed from the public 'with the sole purpose of protecting Serbia from its responsibility before the other UN court' which was then hearing the BH vs. Serbia case. Both acts that allegedly constitute contempt of court were committed after she left her post at the Tribunal; for six years she was the spokesperson of the former chief prosecutor Carla Del Ponte.
Hartmann's defense counsel William Bourdon filed motions to the Trial Chamber asking that the documents related to the case be disclosed in the mother tongue of the accused, since French is one of Tribunal's official languages. Bourdon also asked for the seal to be lifted from the reply filed by Bruce MacFarlane, Canadian lawyer acting as prosecutor amicus curiae to the prosecution's 'motion on language'. As Bourdon put it, there are no factual or legal reasons to justify putting under seal the correspondence about the language in which the Tribunal will communicate in writing with the accused.
Defense counsel Bourdon asked the Trial Chamber to order that all correspondence between Geoffrey Nice, former prosecutor in the Slobodan Milosevic case, secretary-general Ban Ki-Moon, other UN bodies and the Tribunal be disclosed to the defense. The reason for this request lies in an interview Nice gave in May 2008 to Belgrade magazine Nin. In the interview Nice says that he wrote to the UN secretary-general to draw his attention to the fact that Florence Hartmann's book was 'head-on attack on the Tribunal's integrity' and on Nice himself; the book 'portrayed him as an agent of the British intelligence service, MI6'.
Nice's correspondence with UN officials, Bourdon believes, might contain clues that will help the defense to 'shed some light on the origins of the case' against Florence Hartmann.