Home
FLORENCE HARTMANN REFUSES TO ENTER PLEA
French journalist faces contempt of court charges for publishing information about confidential decisions of the Appeals Chamber in the Slobodan Milosevic case. Today she again refused to enter her plea, at her second appearance before a Tribunal judge. The Rules of Procedure stipulate that a plea of not guilty will be entered on behalf of the accused in such a case. Human rights organizations from the former Yugoslavia protest against Florence Hartmann's prosecution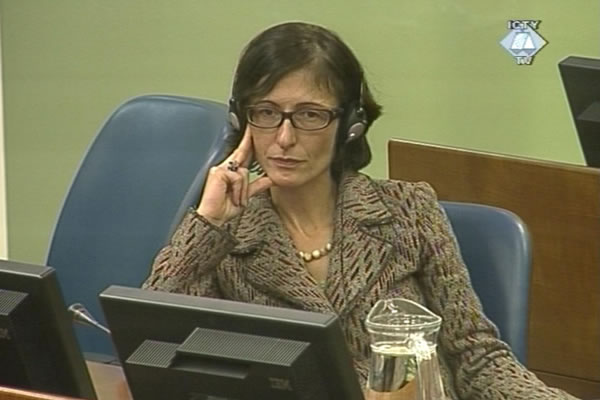 Florence Hartmann in the courtroom
The second time she appeared before a Tribunal judge, Florence Hartmann refused to enter her plea on the indictment charging her with contempt of court for the publication of confidential information about the Appeals Chamber's decisions in the Slobodan Milosevic case.
At her initial appearance on 31 October 2008, she used her right to postpone entering a plea. In court today, she stated she would not enter her plea, through her defense counsel William Bourdon. Judge Carmel Agius then ordered that a plea of not guilty be recorded on behalf of the accused. The trial date will be set later.
In a brief hearing that followed, the former OTP spokesperson and her defense counsel objected to incomplete disclosure of the evidence used by the prosecutor amicus curiae Bruce Mac Farlane to issue the indictment. French lawyer Bourdon described the indictment issued by the Canadian prosecutor as 'pointless'. The defense also objected to receiving the documents in English instead of French, which is the language of the accused. French is one of the official languages of the Tribunal. A special trial chamber which will hear the Florence Hartmann case will rule on the objections. The Chamber consists of Maltese judge Agius, Belgian judge Van den Wyngaert and Dutch judge Orie.
Between the two appearances before a Tribunal judge, dozens of human rights organizations from the former Yugoslavia issued a joint statement expressing reservations about her case and demanding that she be given a public trial, so that they can monitor it. The Belgrade Humanitarian Law Center, the Zagreb Documenta, the Helsinki Human Right Committees from Bosnia and Herzegovina, Serbia and Republika Srpska, the Youth Initiative of Serbia, Bosnia and Herzegovina, Montenegro and Kosovo, and a number of other organizations are asking the Tribunal to eliminate the suspicion that the Supreme Defense Council documents were placed under seal in order to hide from the public the fact that the Tribunal was acting to protect Serbia against being responsibility for the Srebrenica genocide.