Home
ACCUSED TO QUESTION HIS DEFENSE COUNSEL
Momcilo Krajisnik has been granted permission to call his former defense counsel Nicholas Stewart at the evidentiary hearing in his appellate proceedings. Krajisnik alleges that his defense counsel was incompetent during his trial which ended with a 27 year sentence. Stewart is scheduled to testify on Tuesday, 11 November 2008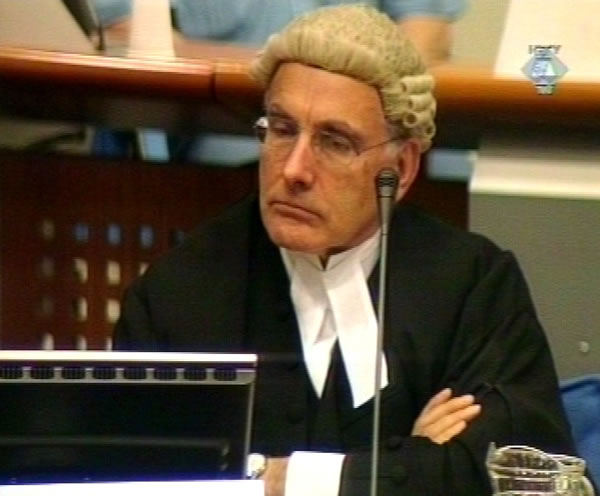 Nicholas Stewart, defence layer of Momcilo Krajisnik
Last week it looked as if the evidentiary hearings to allow Momcilo Krajisnik to call additional evidence were complete after Radovan Karadzic, George Mano and Stefan Karganovic gave their testimony in the appellate proceedings. The Appeals Chamber nevertheless granted Krajisnik permission to call another 'additional' witness, Krajisnik's former defense counsel, British lawyer Nicholas Stewart. Krajisnik complained against Stewart's conduct and practice during the trial; the two often clashed in the courtroom.
In his appeal against the Trial Chamber judgment, Krajisnik alleged that he 'didn't have competent defense counsel'. Former defense team members Meno and Karganovic confirmed this last week in their evidence before the Appeals Chamber. Their evidence was heard in closed session and Krajisnik's exchange with Stewart will probably not be open to public either. Former president of the Bosnian Serb assembly has been granted leave to represent himself in the appellate proceedings: he can examine additional witnesses.
In September 2006, the Trial Chamber sentenced Krajisnik to 27 years in prison for crimes committed by the VRS and other Serb regular and paramilitary units against Bosniaks and Croat in BH in 1992.
Stewart is set to testify on Tuesday, 11 November 2008 at 2.30 p.m. in Courtroom III.