Home
KRAJISNIK TO REMAIN IN BRITISH PRISON FOR AT LEAST TWO MORE YEARS
Momcilo Krajisnik, former president of the Bosnian Serb Assembly, has filed a motion for early release, after serving 11 years of his 20-year prison sentence; the motion was rejected. Krajisnik has been convicted of deportation, forcible transfer and persecution of non-Serbs in Bosnia and Herzegovina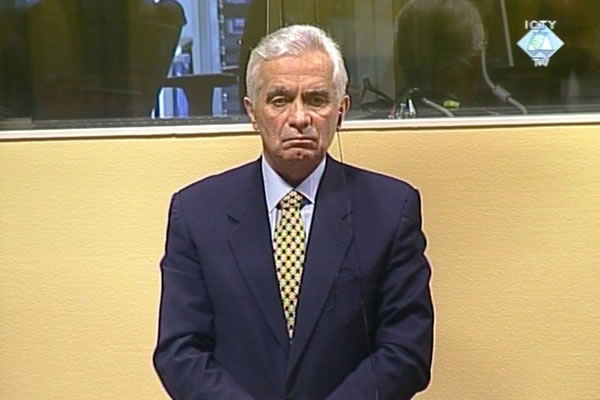 Momčilo Krajišnik u sudnici Tribunala
The Tribunal's president Patrick Robinson rejected yet again Momcilo Krajisnik's motion for early release from a British prison, where he is currently serving his 20-year sentence for deportation, forcible transfer and persecution of non-Serbs in Bosnia and Herzegovina in 1992. The Tribunal's president already rejected a similar motion Krajisnik filed in July 2010.
Krajisnik filed a motion for early release because he has served more than half of his sentence, which is a requirement for early release under the British law. According to implicit practice in the Tribunal, motions for early release are considered only after the accused have served at least two thirds of their sentence. Krajisnik will meet this requirement in August 2013.
In his decision the Tribunal's president stressed that Krajisnik's crimes were 'of a very high gravity and caused great suffering' of the victims. This didn't militate in favor of Krajisnik's early release. On the other side, Krajisnik's behavior in the prison has been 'polite and helpful' and he is always 'cooperative' with staff. According to Judge Robinson, this indicates there has been 'some – albeit very limited –rehabilitation' that may support Krajisnik's early release. According to the report from the prison management, Krajisnik has been learning English but doesn't socialize with other prisoners.
The Tribunal's president also considered the degree of Krajisnik's cooperation with the OTP. In its brief to the Tribunal's president, the prosecution stated that the accused didn't cooperate in any way, whereas Krajisnik in his motion for early release claimed that he had. As Krajisnik said, he has been cooperating 'since 1996' when he acted as a mediator between the prosecution and Radovan Karadzic concerning the indictment against the former Republika Srpska president and his possible surrender to the Tribunal. According to Krajisnik, another aspect of his cooperation was to gather funds for Karadzic's defense in The Hague. Krajisnik credits himself with delivering documents that helped the OTP to prove some elements of the joint criminal enterprise he has been convicted of.
Judge Robinson dismissed Krajisnik's arguments as 'unsubstantiated or irrelevant' and yet again rejected the motion of the former Bosnian Serb Assembly for the early release. Krajisnik has now served 11 years of his 20-year prison sentence.