Home
KRAJISNIK'S SENTENCE REDUCED TO 20 YEARS
The Appeals Chamber has quashed the conviction of the former Bosnian Serb political leader for murder, extermination and partially for persecution, reducing his sentence by seven years. He will serve 20 years for deportation, forcible transfer and persecution related to those crimes. Krajisnik has been in the Tribunal's detention unit since April 2000 and could ask for early release in four or five years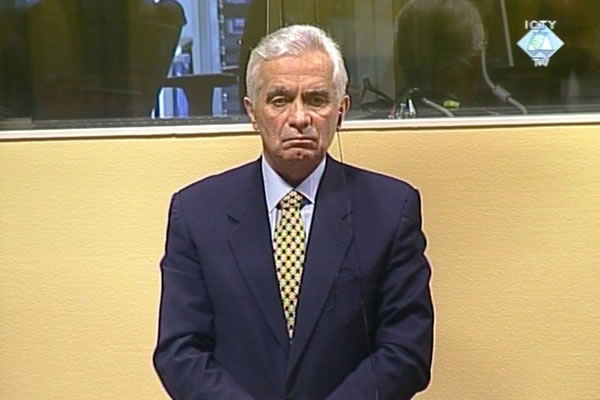 Momčilo Krajišnik u sudnici Tribunala
The Appeals Chamber quashed today the conviction of Momcilo Krajisnik for murder, extermination and some counts of persecution, sentencing him to 20 years in prison for deportation, forcible transfer and persecution based on deportation and forcible transfer.
This is the summary of the Appeals Chamber's judgment on the appeals filed against the
first-instance judgment
from September 2006, sentencing the former Bosnian Serb assembly speaker to 27 years in prison. The Appeals Chamber considered four appeals: Momcilo Krajisnik's, the appeal filed by the Dershowitz brothers, acting as special counsel on the matter of the joint criminal enterprise, the appeal of British lawyer Collin Nichols acting as amicus curiae and, finally, the prosecution's appeal. The Appeals Chamber granted just one ground of appeal in the amicus curiae's brief, quashing Krajisnik's conviction on charges of murder, extermination and partially persecution. All other appeals were dismissed.
The Appeals Chamber confirmed the Trial Chamber's finding that the main objective of the joint criminal enterprise in which Krajisnik took part was to change the ethnic composition in parts of the BH territory designated by the Bosnian Serb leadership; the objective was implemented primarily through deportation, forcible transfer and persecution of the non-Serb population. 'Ancillary crimes' – such as murder and extermination and persecution based on them – were perpetrated as part of the implementation of that goal, but the Trial Chamber failed to establish when those crimes became part of the joint criminal enterprise in order to be attributed to Krajisnik.
The omission of the Trial Chamber which has led the Appeals Chamber to quash most of its judgment may have resulted in a re-trial but the Appeals Chamber decided that in this particular case a re-trial might not be in the interest of justice.
Momcilo Krajisnik has been in the Tribunal's detention unit since April 2000. In four or five years, he might call for early release as he has served almost half of his sentence already.