Home
KRAJISNIK TO REMAIN IN BRITISH PRISON
The Tribunal's President dismissed the motion for early release filed by the former Bosnian Serb Assembly speaker. Krajisnik has served 12 years of his 20-year sentence. Krajisnik will now have to wait until August 2013, when he will have served two thirds of his sentence. This is an implicit requirement for early release at the Tribunal. Krajisnik regularly goes to gym and attends a Bible study course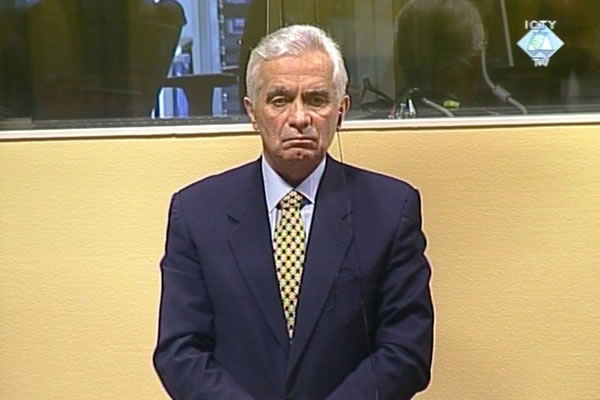 Momčilo Krajišnik u sudnici Tribunala
Momcilo Krajisnik keeps submitting motions for early release to the Tribunal's President to no avail. Krajisnik is serving his 20-year sentence for crimes in BH in 1992 in a British prison. This is the third time Krajisnik's motion was rejected; the motions he filed last year and the year before were also dismissed.
The former speaker of the Bosnian Serb Assembly and the closest associate of RS president Radovan Karadzic recalled in his latest motion that under the British law an early release was possible after serving half of the sentence. Krajisnik also submitted a report by his prison supervisor, stating that Krajisnik had 'successfully adapted to the prison system'. Krajisnik is an 'exemplary prisoner', and there is no danger that he would reoffend, the report states. Although the prosecution had previously stated that Krajisnik never cooperated, in his motion Krajisnik argued that before his arrest he had allowed the prosecution access to Republika Srpska official documents and facilitated contacts with the fugitive Radovan Karadzic.
The decision states that Krajisnik may be entitled to release under the British law but it 'is in no case binding for the Tribunal'. President Meron notes that the practice is to consider motions for early release of persons convicted by the Tribunal only after they have served two thirds of their sentence. The only exception was Dragan Obrenovic who was released eight months before this time because of 'exceptionally important cooperation with the prosecution'. This, the president decided, was not the case with Krajisnik.
The former president of the Bosnian Serb Assembly is now 12 years into his 20-year sentence. In August 2013, Krajisnik will have served two thirds of his sentence and will meet the Tribunal's requirement for early release, despite the fact that he was convicted of grave crimes: deportation, forcible transfer and persecution of non-Serb population. The gravity of crimes was an additional argument against Krajisnik's early release in the decision.
President Meron accepted the conclusions about Krajisnik's good behavior in prison and some indications of his rehabilitation, but this was not sufficient to grant him early release. It is interesting to quote some other things the prison supervisor had to say about Krajisnik's behavior. On his arrival, Krajisnik 'settled well and was happy because of a relaxed prison regime'. Krajisnik spends his prison time 'very usefully' by 'visiting the gym' and regularly attending a 'Bible study course' held by the prison priest. Krajisnik wants to return to Republika Srpska 'to be closer to his family that has supported him all the time' and to contribute to the reconciliation of ethnic communities in the region.