Home
WITNESS DENIES HE 'UNFAIRLY ACCUSED' CERMAK
Former European monitor in Krajina Soren Liborius came back to The Hague to complete his evidence at the trial of generals Gotovina, Cermak and Markac. After his re-examination, the court went into closed session during the testimony of a 'very important witness'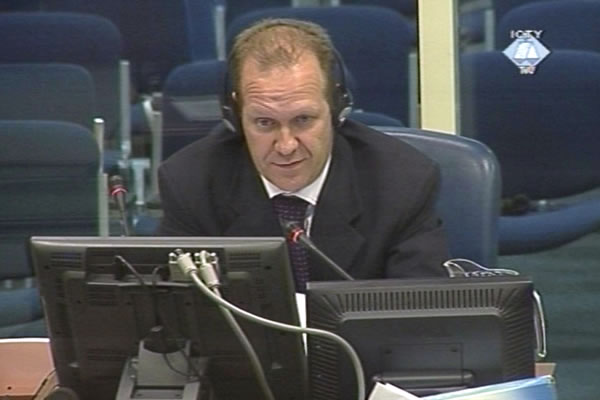 Soren Liborius, witness in the Gotovina trial
In September 2008, Danish diplomat Soren Liborius had to leave The Hague in the middle of his cross-examination on urgent business. The Trial Chamber decided to recall Liborius at a later date to complete his evidence at the trial of Croatian generals Gotovina, Cermak and Markac. The three generals are on trial for crimes committed during and after Operation Storm. Liborius appeared before the court today to testify about the looting and burning of abandoned Serb houses in Krajina in August 1995. Liborius was examined by the defense teams of Ivan Cermak, former commander of the Knin Garrison, and Mladen Markac, commander of the Croatian special police units.
Because the witness said in his statement to the OTP investigators and in his examination-in chief that members of the special police had been those who committed the crimes, Mladen Markac's defense counsel tried to show that the witness had mixed them up with members of the 'regular' civilian police. Liborius admitted that he didn't see with his 'own eyes' the Croatian special police committing crimes. However, in August 1995, he saw their vehicles in villages near Donji Lapac where abandoned Serb houses were looted and burned down. As a member of the ECMM, Liborius was prohibited from entering the area; the explanation was that a special police operation was in progress there.
Describing the situation with the Serb refugees who took shelter in the UN base in Knin after Operation Storm in his statement to the OTP investigators, Liborius said that the goal of Cermak's negotiations with the international monitors was to 'take as many Serbs as possible' out of the base and not to help them. This 'taking', the witness contends, was aimed at men of military age who were later prosecuted for armed rebellion against the Republic of Croatia.
Defense counsel Steven Kay today showed a series of documents in which general Forand, commander of the UN Sector South, and other high-ranking officials of the international mission thank general Cermak for his extraordinary contribution to the evacuation and care of refugees in the UN base. Confronting the witness with those allegations, Kay asked him if he thought that in his statement to the OTP investigators he had 'unfairly accused' Cermak. The witness said he didn't.
When Liborius completed his testimony, the court went into closed session for the evidence of a 'very important' protected prosecution witness.