Home
GENERAL GOTOVINA'S ASSISTANT GIVES EVIDENCE
After a two-week break, the trial of Croatian generals Gotovina, Cermak and Markac continues with the evidence of Ljiljana Botteri, legal affairs assistant to the commander of the Split Military District, and Milica Djuric, 76-year old woman whose husband was burned alive at their family property in the village of Djurici in Krajina in August 1995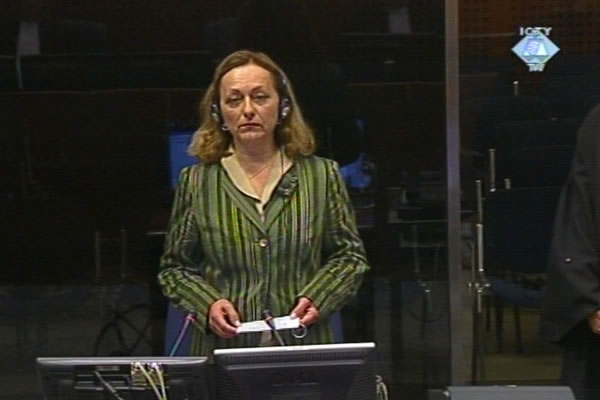 Ljiljana Botteri, witness in the Gotovina trial
In August 1995, Ljiljana Botteri was Ante Gotovina's legal affairs assistant. Gotovina, who was the commander of the Split Military District, is now in trial together with generals Ivan Cermak and Mladen Markac for crimes against Serb civilians and their abandoned property during and after Operation Storm. Botteri gave two statements to the OTP investigators, in 2004 and in 2007. A few days before she came to The Hague Botteri also gave a statement to Gotovina's defense. She has come to The Hague as a prosecution witness and claims all three of her statements are accurate and true.
During and after Operation Storm, the witness was in charge of verifying the validity of the reports on disciplinary proceedings instituted against Croatian soldiers by commanders of the Split Military District. Prosecutor Gustafson showed her a list of 84 disciplinary proceedings filed against soldiers of the Split Military District in August and September 1995. The witness agreed with the prosecutor that most of the proceedings dealt with the soldiers who had gone AWOL from their units; a handful dealt with looting and arson.
The list showed that disciplinary proceedings were instituted against a soldier who had set on fire three haystacks in an unnamed Krajina village; proceedings were also instituted against the soldier's platoon commander who failed to prevent him from doing that. The two cases are the only proceedings related to incidents in which the Serb property was torched that could be found in the files of the Split Military District. There were several proceedings for incidents where property was taken illegally, although in most cases the property was labeled as 'war booty' and was already in the possession of the army; in the incidents, the deserters stole it when they deserted their units. The witness couldn't say why a tractor was among the stolen 'war booty'. As she explained, that tractor could be listed as war booty only if it 'was used for a military purpose'.
[IMAGE]3725[/IMAGE]Ljiljana Botteri will continue her evidence tomorrow. At the beginning of the hearing today, 76-year old Milica Djuric testified via video link from Belgrade. On 6 August 1995 her husband was burned alive in the village of Djurici in the Plavno Valley, Krajina. Describing what she knew about the incident the witness said that she was told by her husband's mother how her husband Sava Djuric had died. The witness's mother-in-law was present when Sava Djuric was forced to step inside a burning workshop at their family estate.
Milica Djuric's son Mile Djuric gave evidence about the same incident in June 2008. Mile Djuric maintained that he could see the soldiers force his father to enter the house. When the presiding judge asked the witness if her son had told her anything about that incident, the witness said he didn't like to talk about it. However, she said he could have been near and seen what had happened.