Home
GENERAL GOTOVINA AND MILITARY POLICE
In her statements to OTP investigators, Ljiljana Botteri, General Gotovina's former legal affairs assistant, claimed that the Split Military District commander was issuing orders to the military police during and after Operation Storm. In her statement to the defense, she 'corrected' herself saying that Gotovina was in charge of all military police affairs except for crime prevention and identification of perpetrators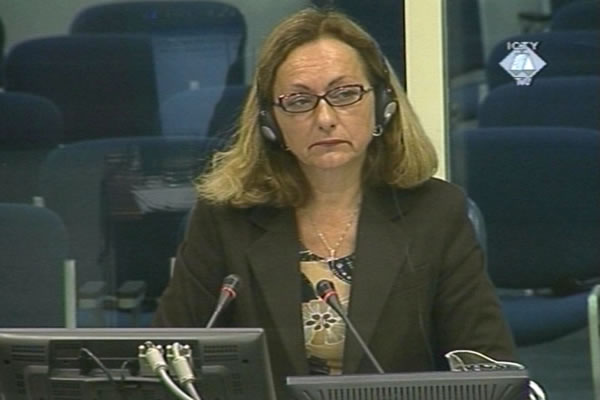 Ljiljana Botteri, witness in the Gotovina trial
On the second day of the testimony of Ljiljana Botteri, former legal affairs assistant to Ante Gotovina, Split Military District commander, the prosecution tried to prove that the accused general had authority over the military police during and after Operation Storm in 1995. Together with generals Ivan Cermak and Mladen Markac, Gotovina is on trial for crimes against Krajina Serbs in the summer and autumn of 1995.
In the statements she gave to the OTP investigators in 2004 and 2007, the witness said that the military police was subordinated to General Ante Gotovina, the commander of the Split Military District. Gotovina was authorized to issue orders to the military police commanders, she told the OTP. Five days before she came to The Hague, Ljiljana Botteri gave a statement to Ante Gotovina's defense in which she 'amended and clarified' her previous claims. The witness told the defense that the commander was authorized to issue orders to the military police only for 'day to day business', such as guarding persons and buildings or escorting military convoys. Gotovina was not authorized to issue orders related to crime prevention and identification of perpetrators. When the prosecutor confronted the witness with this discrepancy in her statements, Botteri replied that she 'had only a superficial grasp' of what the military police did, because it was outside of her purview.
Major part of the hearing was spent discussing if Gotovina was authorized to institute disciplinary proceedings against members of units that had been temporarily resubrodinated to him. Botteri first said that he couldn't do it. When the prosecutor showed her the Military Disciplinary Rules which stipulate that it was within his power, the witness corrected herself noting that it was an 'exception very difficult to implement in practice'.
Describing how the reservists were punished in the Split Military District for violations of military discipline, Botteri said that 'non-regulation measures' were used more often than the measures the military commanders had at their disposal. The 'non-regulation' or unofficial measures boiled down to demobilization. As the witness described, this was far worse punishment for the soldiers guilty of disciplinary infractions that cautions, reprimands or 30-day detention.
At the end of the examination-in chief, Botteri described what she saw on 5 August 1995 when she went to Knin on her own because she 'wanted to be with her command'. She only passed through the main street, which as she put it, 'looked exactly as any place where an army had been'. This meant that 'a lot of shop windows were broken'. When the prosecutor asked her if the goods had been taken away or left in the shops, Botteri replied 'half and half'.
As the hearing today drew to a close, Ante Gotovina's defense began its cross-examination.