Home
ADMISSION WAS NOT ENOUGH
Former public prosecutor from Sibenik Zeljko Zganjer explains why he stopped his investigation of the Croatian soldiers who had admitted they had killed 17 Serb civilians in the Krajina villages of Gosici and Varivode in mid-August 1995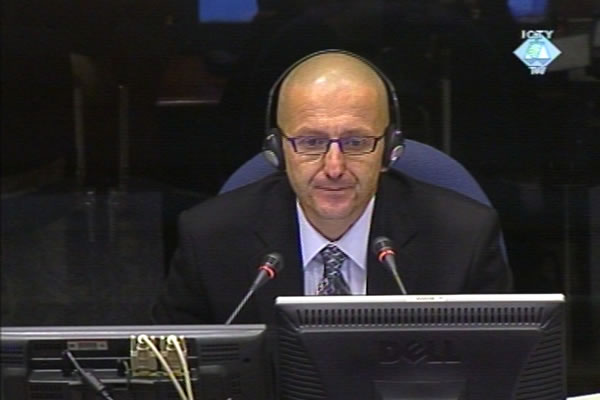 Zeljko Zganjer, witness in the Gotovina trial
Yesterday, witness Zeljko Zganjer talked about the investigation into the murder of five elderly people in the village of Grubori. Today, the former public prosecutor from Sibenik spoke about the criminal prosecution of Croatian soldiers accused of murdering 16 Serbs in the villages of Gosici and Varivode in August 1995. As the witness explained, the investigation was opened in October 1995, but the indictment was not filed until 1998 when the case was transferred from the Zadar public prosecutor's office to Sibenik.
One of the suspects, who later testified in the case, was Goran Vunic. Vunic was a member of the HV 113th Brigade but, as Zganjer later learned, Nenad Mrkota, member of the military police, obstructed the investigation into Vunic's actions. During the investigation, several Croatian soldiers confessed that they had killed Serb civilians in the villages of Gosici and Varivode. When the witness received the case file he realized that the claims in the confessions didn't match the crime scene. This is why Zganjer decided to drop the case against the suspects.
Mladen Markac's defense counsel began his cross-examination by tendering into evidence several laws of the Republic of Croatia and decisions passed by government institutions. The defense counsel then proceeded to question the witness in a more general way instead of focusing on the particular investigations. The defense counsel put it to Zganjer that in 1995 war crimes investigations were rather difficult because of various legal restrictions coupled with scarce personnel and technical resources. The witness agreed with this claim.
Zganjer's cross-examination continues tomorrow; the witness will be cross-examined by the defense counsel of generals Markac and Gotovina.