Home
PROTECTING THE TROOPS WAS PRIORITY
Witness Botteri has agreed with defense counsel Misetic that General Gotovina had the power only to punish a soldier who set a house on fire or looted property without permission in disciplinary proceedings, for going AWOL, while others were responsible for criminal prosecution of culprits. Gotovina's primary task was 'to protect the troops' army, not to punish individuals'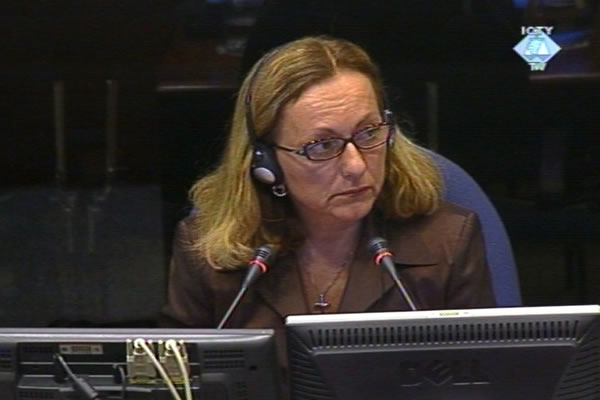 Ljiljana Botteri, witness in the Gotovina trial
In her cross-examination, prosecution witness Ljiljana Botteri agreed without demur with everything Ante Gotovina's defense counsel put to her. In 1995, when Gotovina was the commander of the Split Military District, Botteri was his legal affairs assistant. Gotovina and generals Ivan Cermak and Mladen Markac are now on trial for the crimes committed by the army and police against Krajina Serbs in the summer and autumn of 1995 during and after Operation Storm.
Botteri answered most of the questions put to her by defense counsel Luka Misetic with 'yes', 'that is correct', 'I agree' or 'you are absolutely right'. Botteri thus confirmed that Ante Gotovina did not have the authority to conduct criminal investigations; all he could do was to institute disciplinary proceedings against members of his subordinate units. If a soldier was suspected of going AWOL to set a house on fire or to loot it, the defense counsel noted, General Gotovina and other HV commanders could only punish him for going AWOL. Botteri agreed with this claim adding that the military and criminal police and judicial bodies were in charge of criminal prosecution. According to the defense counsel, Gotovina's primary task was to 'protect the troops and not to punish individuals'. The witness agreed with this claim.
In his effort to prove that the primary perpetrators of crimes against Serb civilians and their abandoned property were soldiers who had been demobilized from the Croatian Army, the defense counsel showed the witness the minutes from a meeting held on 23 August 1995 where defense minister Susak and interior minister Jarnjak complained to President Tudjman that many demobilized soldiers were causing trouble, wandering about the liberated territory with weapons they had confiscated during Operation Storm and kept as 'war trophy'. The witness briefly replied that she 'agreed with the text' because many soldiers did indeed illegally keep their weapons after the demobilization.
As Botteri explained in her evidence yesterday and today, demobilization was used as an 'unofficial disciplinary measure' because it was more effective that any other punishment General Gotovina and other commanders had at their disposal. There are no data about the number and reasons behind such 'unofficial punishment' and the witness couldn't remember even a single specific case.
Ljiljana Botteri completed her evidence today, and the trial of the three generals continues on Monday.