Home
INVESTIGATION SIX YEARS AFTER GRUBORI MURDERS
Former public prosecutor from Sibenik Zeljko Zganjer has agreed with the defense that he had no knowledge of General Markac obstructing the investigation into the murder of five elderly Serbs in the village of Grubori in August 1995. Zganjer nevertheless emphasized that he 'absolutely couldn't understand how such an incident' could remain unreported for years and why the investigation was not launched before March 2001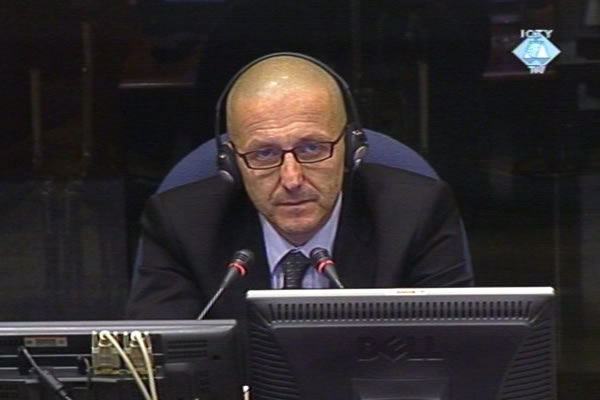 Zeljko Zganjer, witness in the Gotovina, Cermak and Markac trial
Former county public prosecutor from Sibenik Zeljko Zganjer claimed in his examination-in chief that when General Mladen Markac was interviewed in March 2002, he didn't provide any information helpful for the investigation about the murder of five Serb elderly persons in the village of Grubori in August 1995. Answering questions put by General Markac's defense counsel, the witness said that he had no knowledge that the accused general or anybody else openly obstructed the investigation. The incident in the village of Grubori is one of the crimes committed after Operation Storm listed in the indictment against Croatian generals Gotovina, Cermak and Markac.
Although Zganjer didn't have 'reliable information' indicating that Markac or somebody else covered up the crime in the village of Grubori, he 'absolutely couldn't understand how an incident of such nature' could have gone unreported, as neither the public prosecutor's office nor an investigative judge knew about it until 1998, when Zganjer heard about the murder for the first time from an Amnesty International report. Defense counsel Mikulicic then put it to him that the special police, headed by Markac at the time, were not duty bound to report crimes, and the witness agreed. Croatian judicial bodies were prompted by Zganjer to start investigating the Grubori incident in 2001, six years after murders.
When he was examined by the defense counsel of General Ante Gotovina, the witness provided additional explanations about the decision he made in 2002 to drop the case against a number of Croatian soldiers accused of the murder of 16 Serb civilians in the villages of Gosici and Varivode. He repeated what he said in his examination-in chief: what they said didn't match the crime scene. Zganjer also noted that during the investigation the accused claimed that their confessions had been given under duress after they were 'severely beaten' by the police.
Markac's defense implied that the special police had nothing to do with 'submitting reports and information' about crimes; likewise, defense counsel Misetic asked the witness if General Gotovina could have issued orders to military prosecutors. 'Absolutely not, in the same way as a prosecutor couldn't interfere with military actions', the witness replied.
Zganjer completed his evidence today; the trial of Croatian generals continues tomorrow.