Home
HOW TO RECOGNIZE LOOTED GOODS
When the defense of General Ivan Cermak put it to the witness that loaded vehicles with no licence plates moving around Krajina after Operation Storm didn't necessarily transport looted goods, former employee of the Helsinki Human Rights Federation William Hayden remarked that it didn't look as if the soldiers in the vehicles had just been to the shopping mall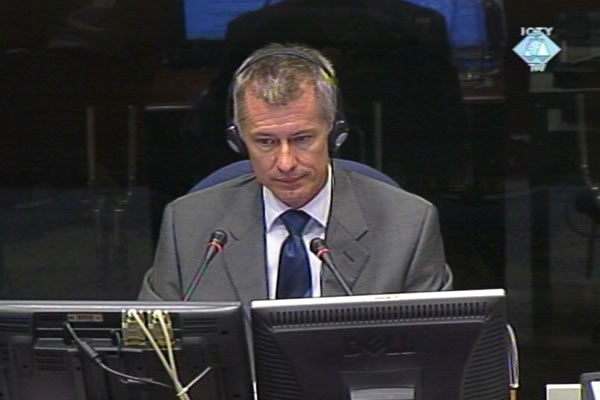 William Hayden, witness in the Gotovina trial
In the days after Operation Storm, the world media started featuring reports about violations of human rights of the Serbs in Krajina. The Organization for Security and Co-operation in Europe (OSCE) decided to verify the allegations. A mission of the Helsinki Human Rights Federation was sent to Knin on 17 August 1995 to investigate the crimes against Serbs and their property on behalf of the OSCE. American William Hayden, who gave his evidence today at the trial of Croatian generals Ante Gotovina, Ivan Cermak and Mladen Markac, led the three-day mission.
As Hayden explained, the conclusions in the report drafted by the Helsinki Federation on 25 August 1995 were based on the information he and his colleagues received from the UN mission, the Croatian authorities, people they talked to in the field and what they saw. In his words, a Croatian Army colonel told him that the goal of the shelling of Knin was to cause 'mass panic and an exodus of the Serb civilians'. Based on that and on the fact that the artillery targeted few buildings in Knin, Hayden concluded that the artillery was used 'in a special way'. The objective was to cause panic among civilians and not to destroy the town.
The Helsinki Federation report listed a number of villages in Krajina that were completely or to a large extent looted and burned down; the villages of Kistanje, Srb, Donji Lapac and Vrbnik are among them. The wide-spread nature of the looting and destruction of houses led Hayden to conclude that it was a 'systematic and coordinated' crime. Hayden said that he himself saw persons in camouflage uniforms transporting looted goods in civilian vehicles with no licence plates.
When Cermak's defense counsel Steven Kay asked the witness in his cross-examination how he could tell that the goods in the vehicles had been looted, the witness replied that it 'didn't quite look as if the soldiers had just been to the shopping mall'. The defense counsel then put it to the witness that the soldiers might have been Croat returnees transporting their own property who wanted to move into houses they had previously abandoned. Hayden said that in the three days he spent there he didn't see many Croat civilians, adding that they were still prohibited from entering the liberated territory.
In his examination-in chief, the witness said that the Croatian military and civilian authorities failed to do anything to the prevent crimes. This prompted defense counsel Kay to ask the witness if during his stay in Krajina he had ever asked anybody from the authorities what was being done to prevent looting; General Cermak was among the persons Hayden had talked to. Hayden replied that he had not focused on this issue. However, he did ask and Cermak told him that the army had 'under control' five suspects – three soldiers and two civilians – but he didn't specify if they were remanded in custody.