Home
MARTIC'S 35-YEAR SENTENCE CONFIRMED
The Appeals Chamber confirmed the Trial Chamber's judgment sentencing the former president of the former RSK to 35 years in prison for persecution, murder, detention, torture, inhumane acts, cruel treatment, deportation and forcible transfer, wanton destruction of villages and educational and religious buildings, looting of public and private property and attacks on civilians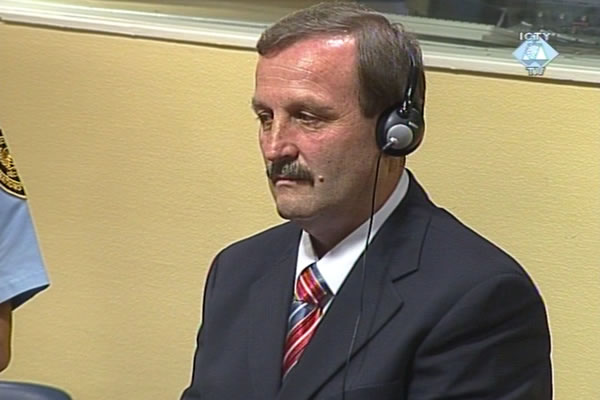 Milan Martic in the courtroom while the Appeals Chamber confirms the first instance judgment
The Appeals Chamber today confirmed the first instance judgment of Milan Martic, former president of the former RSK, convicting him on all 16 counts in the indictment and sentencing him to 35 years for crimes committed from 1991 to 1995 in Croatia and western BH.
In June 2007, Martic was found guilty of taking part in the joint criminal enterprise aimed at the creation of Serb state comprising territories in Croatia and BH. Rejecting one of the grounds of Martic's appeal, where he claimed that the Trial Chamber failed to consider the 'context' in which the events unraveled and in particular 'the political aims of the Serb leadership', the Appeals Chamber pointed that the former RSK president 'was not convicted for his political attitudes or the political aims of the Serb leadership' but because 'Martic and other Serb political and military leaders committed serious crimes' while attempting to accomplish those objectives.
The Appeals Chamber rejected nine out of a total of ten grounds listed in Martic's appeal, including those referring to the rocket attack on Zagreb in May 1995. In his appeal, Martic described the incident as 'a legitimate military action taken in self-defense' in response to the 'illegal operation' the Croatian Army launched in Western Slavonia. Since attacks against civilians are absolutely prohibited, the Appeals Chamber noted in its judgment that it 'fails to see how Martic's argument that Serbs were acting in self-defense and were not aggressors could justify his retaliatory shelling of Zagreb'.
Finding that Martic's connection with the direct perpetrators of the crimes in Benkovac, Cerovljani, Vukovici and Poljanak was not proved, the Appeals Chamber reversed the conviction on those counts, noting however that this has 'minimal bearing on Martic's overall responsibility'.
The Appeals Chamber granted the appeal filed by the prosecution and ruled that Martic was responsible for crimes against humanity committed against Croatian soldiers when they were hors de combat. The Trial Chamber acquitted Martic of those crimes, but the Appeals Chamber found that the additional crime against humanity conviction didn't call for a harsher sentence.
Milan Martic will remain in the Tribunal's UN Detention Unit until his transfer to a prison in one of the UN member states where he will serve the rest of his sentence. The six and half years Martic has spent in the UN Detention Unit in Scheveningen will be credited against his prison sentence.