Home
MILAN MARTIC WANTS TO MOVE FROM ESTONIA
Former Krajina Serb leader petitions the Tribunal's President to allow him to move from a prison in Estonia to Denmark, Austria or some third country with better prison conditions. Martic is not satisfied with the conditions in the Estonian prison: there are communal showers, he has to share his cell with another prisoner, is given little time for sport activities and medical care is poor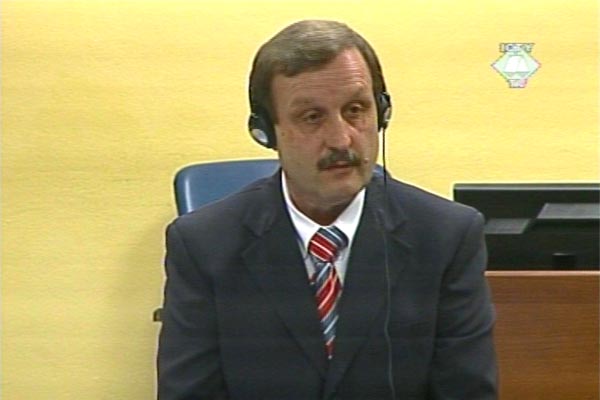 Milan Martic in the courtroom
Five and a half years after Milan Martic's transfer to Estonia where he is serving his 35-year prison sentence, his defense counsel submitted a motion to the Tribunal's President Theodor Meron asking him to authorize Martic's transfer to another country. Martic, the letter states, is not satisfied with the conditions in the Tartu Prison in Estonia. Dragomir Milosevic, former commander of the Sarajevo-Romanija Corps, is also serving his prison sentence there.
The former Krajina Serb president claims that in Estonia he does not enjoy the same conditions of imprisonment as other Tribunal's convicts who have served their sentences in other European countries. Martic claims he does not have access to adequate medical care, a rehabilitation program, a prison cell of at least nine square meters with a shower, a toilet, a TV set, a fridge and a cooker, unlimited number of prison walks, prison cell keys, the possibility to earn a couple of hundred euros as a salary, and last but not least, to use the gym.
Martic's defense counsel Predrag Milovancevic explains that the accused enjoy those conditions in the Tribunal's Detention Unit; according to him, this is the standard that has been envisaged by the Tribunal's agreement on the enforcement of sentences with the countries that have made available their prison facilities to The Hague Tribunal. The defense has not referred to the specific provisions of the agreement, claiming instead that the then Tribunal's President and Registrar had told Martic so prior to his transfer to Estonia.
Highlighting specific problems, Milovancevic notes that his client hasn't yet been offered any rehabilitation programs andMartic has not been given the opportunity to work and earn money that would make it easier for him to communicate with his relatives and friends. The biggest cost is travel for Martic's family. 'Martic's sentence is thus also a sentence for his relatives', Milovancevic says. The letter also notes that Martic's last visit occurred in September 2012. As far as employment is concerned, Martic has been told a job could be found for him, but not before 2035.
As Milovancevic says in the letter, Martic's denture broke at one point, and he could only chew on one side of his jaw. He was taken to see a dentist only six months later, after the intervention of the Serbian consulate. Also, Martic complains that he has been categorized as 'aggressive', although he has not been evaluated by a psychiatrist, and has not caused any incident.
Instead of his own nine square meters, Martic shares a prison cell with a roommate. Martic has to shower in communal facilities and can spend only four minutes in the shower. Martic is rarely given opportunity for sports. He can spend only 40 minutes a week playing sports and is allowed to take a single one-hour walk a day.
The defense has repeatedly written to the Estonian authorities, demanding that the prison conditions improve, to no avail. Now Judge Meron has received a letter of complaint, in which the defense asks him to authorize Martic's immediate transfer to the UN Detention Unit in Scheveningen pending a decision on his transfer to another country where he would serve the rest of the sentence. In the defense's view, the best alternative host countries are Denmark or Austria, but any country which could offer the conditions specified by Martic could be considered.
The Tribunal in The Hague sentenced the former Krajina Serb president to 35 years in prison for persecution, murder, deportation, and detention of non-Serbs in inhumane conditions.