Home
EL MUJAHID DETACHMENT DECORATIONS WERE POLITICALLY MOTIVATED
In the cross-examination of General Rasim Delic's defense witness, the prosecution wanted to prove that the BH Army General Staff, not the BH Presidency, decided about decorations for the El Mujahid Detachment. This is how it was supposed to be according to the rules, but an exception was made in this case for political reasons, the witness explained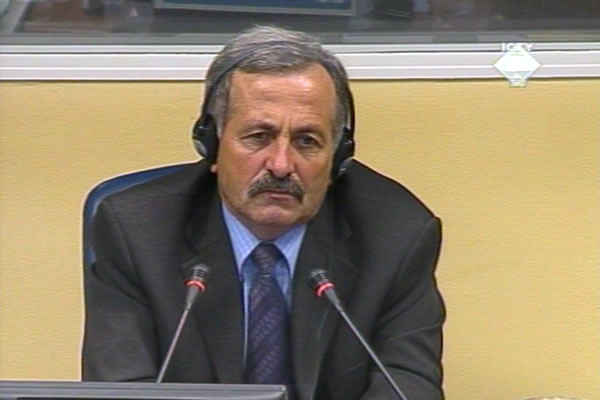 Alija Loncaric, defense witness for Rasim Delic
In the cross-examination of defense witness Alija Loncaric, the prosecution tried to prove that the BH Army General Staff, and not the BH Presidency, decided on the decorations for BH Army units and troops. The prosecution wanted to contest what the witness said about the decorations that were awarded to the members of the El Mujahid Detachment in December 1995. According to the witness, it was not Delic who decided to award them, but Alija Izebegovic, former president of the BH Presidency.
The witness was the chief of the Decorations and Awards Department from the time General Delic was appointed commander of the BH Army General Staff. He confirmed that this was how it should have been done, but in practice 'decisions were politically motivated'. The witness repeated that General Sulejman Vranj, a man close to the president, told him personally that it was Izetbegovic who ordered that the Mujahideen be awarded, in an effort to persuade them to leave BH peacefully after the signing of the Dayton peace accords.
According to the rules, the Presidency had the authority to bestow decorations such as the freedom medal, or the medal with golden or silver swords, while the General Staff had the authority to bestow decorations such as the golden lily or the silver shield, on the recommendation of the corps commands. As the witness explained, an exception was made in the case of the Mujahideen because the provision on the withdrawal of all foreigners from the BH was put it the Dayton Agreement.
When judge Frederik Harhoff noted that some documents from early November 1995 showed that the decorations for the El Mujahid Detachment had been considered even prior to that, the witness replied that the peace treaty wasn't signed overnight. It was discussed for months before it was signed at the sessions of the Democratic Action Party (SDA) and at the meetings of the Patriotic League.
In the re-examination, the defense noted that General Delic was neither a member of the SDA party nor of the Patriotic League.