Home
MUJAHIDEEN CAME WITH ZENGAS
Halim Husic teaches history at the Gazi Husrev-beg religious school in Sarajevo. At the trial of former commander of the BH Army General Staff, he describes how a group of foreign fighters of Arab origin entered BH. This group was the core of the El Mujahid Detachment, set up in July 1993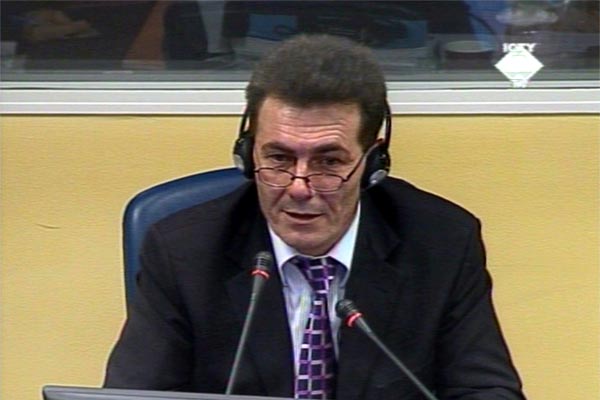 Halim Husić, defense witness for Rasim Delic
Halim Husic teaches history at the Gazi Husrev-beg religious school in Sarajevo. Today he testified at the trial of Rasim Delic, former commander of the BH Army General Staff. He claims that in April 1992 a group of foreign fighters of Arab origin entered BH together with the 'Zengas', a group led by Midhat Puric Hadzija, who was in the Croatian Army at the time.
Husic was in Zagreb when the war started. There he met several batches of foreign fighters from Arab countries who were trying to get into BH. They were hanging out with soldiers from the Croatian Army and units led by Armin Pohara, Ekrem Mandala and Midhat Puric Hadzija – Bosniaks who fought with their men in northern BH and then went back to Zagreb, where their headquarters were.
In April 1992, the witness recounted, Puric, who used to be his neighbor in Mehuric, invited the witness to travel from Zagreb to Travnik with him and the foreign fighters. The witness didn't accept because the president of the Croatian SDA Semso Tankovic advised him he should travel alone. When he arrived in Mehuric in May 1992, the witness encountered Puric's 'Zengas' and the Arabs he used to see in Zagreb. They told him they had come with Puric's men.
As the witness said, this group of Arabs was billeted in the elementary school in Mehuric, with the approval of the civilian authorities. Soon afterwards, they started setting up the religious classes and distributing humanitarian aid to the local population. Since they were the only ones to offer 'a helping hand', the Mujahideen enjoyed enormous support from the people and the local civilian authorities, Husic claims.
The witness, who did not agree with mono-ethnic military structures, as he said, had joined the Territorial Defense in the meantime. He then went on to join the 206th Mountain Brigade, BH Army 3rd Corps, where he was the assistant commander for morale until the end of 1993. In this period, he said, the Mujahideen never fought 'side by side' with the fighters from the 306th Brigade.