Home
BETTER TO BE A POLITICIAN THAN A FIGHTER
At the trial of Rasim Delic, the prosecution cross-examined witness Haso Ribo in an effort to prove that the 3rd Corps exercised command over the El Mujahid Detachment during Operation Farz in September 1995. The witness denied this, noting that the 35th Division was in charge of the Mujahideen. It was better to be politician than a fighter during the war, he concluded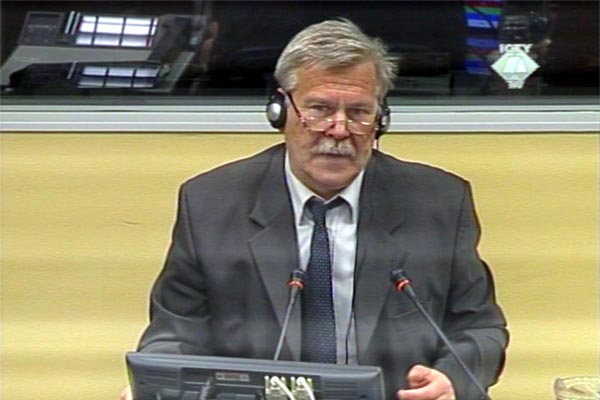 Haso Ribo, defense witness for Rasim Delic
In the cross-examination of the witness Haso Ribo, chief of the Operations Department in the BH Army 3rd Corps at the time relevant for the indictment against General Rasim Delic, the prosecutor showed him two articles published in the army journals. According to the prosecutor, the articles prove that the 3rd Corps was in command of the El Mujahid Department in the course of Operation Farz in September 1995.
In October 1995, Army journalist Adnan Dzonlic wrote an article, Chetnik Stalingrad liberated, about the achievements of the BH Army in the operation at Mount Ozren. He described the axes of attack of the El Mujahid Detachment, and named the witness as his source. The article was published in the Army newspaper The Front Line. There is another article by the same author, in a similar vein, but it was published in Patriot Journal, the war journal of the 3rd Corps.
The witness didn't deny that he had given some information to Dzonlic about the BH Army operation, but claimed that the information had nothing to do with the El Mujahid Detachment. The journalist could have gotten that information only from the 35th Division command, because the El Mujahid Detachment was subordinated to it, he said.
The 3rd Corps command considered the El Mujahid Detachment as its elite and most efficient unit, the prosecutor noted. This is why it was assigned to launch 'the key attack' against Opaljenik on 10 September 1995. The witness didn't agree with the allegation, noting that the 3rd Corps had 'far better and more elite units' than the Mujahideen 'who fought only when they wanted to'. In the course of Operation Farz, Ribo repeated today, the Corps command issued orders to the 35th Division whose command in turn decided what role the El Mujahid Detachment would play.
When judge Lattanzi asked him if the Patriot League members had joined the BH Army after the transformation of the armed forces, the witness replied that some individuals had done so. In his words, 'most of them went into politics' as it was 'easier to be politician than fighter' at the time. Ribo mentioned Zihnija Aganovic, commander of the Patriot League Regional Staff who became the president of the Travnik municipality, as an example. In his examination-in chief, Ribo said that Aganovic had provided more support to the Mujahideen than to the BH Army during his 'civilian mission'.