Home
SEE NO EVIL, HEAR NO EVIL
Enver Adilovic, former member of the BH Army 7th Brigade, testifies as General Rasim Delic's defense case continues. According to him, there were no foreign fighters in that brigade. 'I never met them or saw them in the units of the 7th Muslim brigade. I never even heard of them', the witness said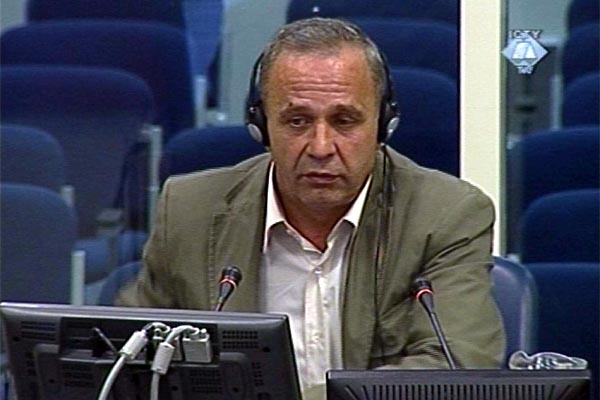 Enver Adilovic, defense witness for Rasim Delic
The defense case of Rasim Delic, former commander of the BH Army General Staff continued today with the testimony of a former member of the BH Army 7th Muslim Brigade. Enver Adilovic said that there had been no foreign fighters in his brigade. 'I never met them or saw them in the units of the 7th Muslim brigade. I never even heard of them', Adilovic replied to the questions of Nicholas Robson, Delic's lawyer.
In his examination-in chief, the witness said he joined the Territorial Defense in Vitez when the war broke out in 1992. A few months later, in November 1992, he was transferred to the 7th Muslim Brigade as a commander of the 4th Krajina Company in the 1st Battalion.
Through this witness, the defense tried to contest the accuracy of the information on the list of Muslim armed forces personnel admitted into evidence by the prosecution. The list contains the witness's name and what is purportedly his alias, Ibn Sefik. The witness claims that he was never a member of the Muslim armed forces and that he never heard of that nickname.
The witness noted that when he came back from the operation launched by the 7th Muslim Brigade near Visoko on 28 December 1992, he saw several foreign fighters with 'darker complexion' but he didn't stop to talk to them. He suspected they were foreign fighters, the Mujahideen, but was adamant that they didn't take part in the 7th Muslim Brigade operation.
The witness stood by his words even after the prosecutor showed him two documents referring to this operation, where groups of Arabs and Turks are described 'advancing along the front together with the fighters from Travnik'. 'I know that there were no Turks or Arabs because I was leading the people from Travnik in that operation', the witness stated. The defense challenged the authenticity of the documents, pointing to the fact that they bore no signature or stamp.
The trial continues next Tuesday when the defense will call its new witness.