Home
GERMAN JOURNALIST IN A SKOPJE HOTEL
Through Branislav Dimitrov's evidence, the defense of Ljube Boskoski points to the inconsistencies in the testimony of Franz Josef Hutsch. In June 2007, German journalist claimed that on 12 August 2001 he stayed at the Dal Met Fu hotel in Skopje. According to hotel director Dimitrov, Hutsch stayed in hotel from 22 to 31 August 2001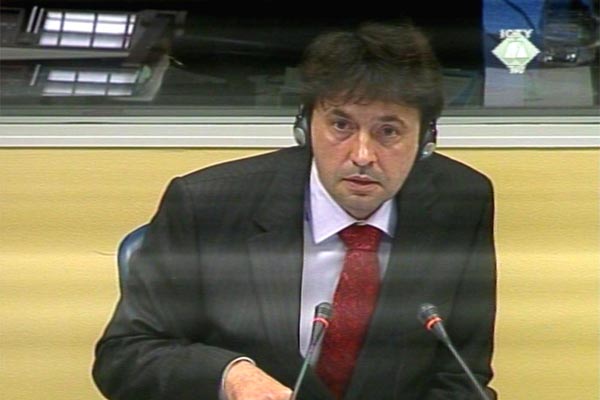 Branislav Dimitrov, defense witness for Ljubeta Boškoski
In June 2007, German journalist Franz Josef Hutsch testified for the prosecution, claiming that on 12 August 2001 he saw the police units enter the village of Ljuboten. He also claimed that he saw the bodies of villagers killed in the raid, and that he was present when some thirty Macedonian Albanians were beaten at a police check point. According to the indictment, former Macedonian interior minister Ljube Boskoski and Johan Tarculovski who commanded the unit of reserve police members participating in the attack are charged with these crimes.
Hutsch also claimed that on that 12 August 2001 he was in Skopje, staying at the Dal Met Fu hotel. He remained there the whole week after the incident. He saw interior minister Boskoski in the hotel restaurant in the evening of 12 August 2001, he said. To challenge the German journalist's evidence, the defense today called Branislav Dimitrov, the manager of the Dal Met Fu hotel. In his written statement given to the defense, Dimitrov says that Hutsch arrived at the hotel on 22 August 20001 and stayed until the end of the month.
Dimitrov's statement was tendered into evidence together with the 'Book of Foreign Guests' which contains Hutsch's personal information and the receipts confirming he paid for his stay in the hotel from 22 to 31 August 2001. Dimitrov explained that the information related to foreign guests was checked by the police; their stay in the hotel was recorded on a daily basis.
[IMAGE]3271[/IMAGE]Branislav Dimitrov is the last witness testifying in the defense of Ljube Boskoski. Djoko Popovski, assistant interior minister for finance and logistics was finished his testimony before him. Popovski said that some of reservists receiving money from the Macedonian interior ministry had had criminal records. The names of the reservists were listed among the forty names the witness was given by the Boskoski's defense so that he could check whether they really had been in the reserve force. According to the witness, none of them received salary from the interior ministry; some did get allowances as reservists.