Home
SIMILARITIES BETWEEN ALBANIANS AND SERBS
Testifying in the defense of General Sreten Lukic, former employee in the Border Police Administration of the Serbian Interior Ministry said that in 1999, Albanians had been permitted to leave Kosovo even without passport because an emergency situation. He compared it to the exodus of the Serbs who had left parts of Croatia and Bosnia Herzegovina; they too had no passports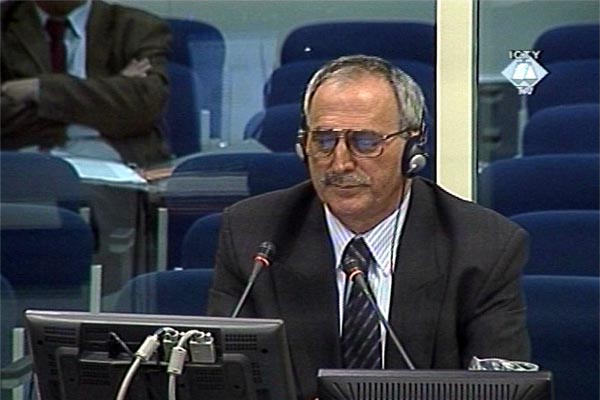 Petar Dujkovic, defense witness for Sreten Lukic
Petar Dujkovic, former employee in the Border Police Administration of the Serbian Interior Ministry, claims that General Sreten Lukic had no authority over the police stations located on the border with Albania and Macedonia at the time of the conflict in Kosovo in 1999. They were under the command of the Border Police Administration in Belgrade, where he worked, and not of the MUP Staff for Kosovo, headed by Lukic.
Dujkovic explained that FRY citizens could leave the country only with a passport, but in an emergency caused by war or a natural disaster, the border could be crossed without travel documents. In the spring of 1999, the border police gave in to the flood of thousands of Albanian civilians allowing them to leave Kosovo without controlling their passports. Although Dujkovic corroborated what previous Lukic defense witnesses said about Albanians fleeing in fear of NATO bombing, he compared the situation with the exodus of Serbs who were 'deported and expelled' from parts of Croatia and BH.
Like Nebojsa Ognjenovic, commander of the border police post at Vrbnica near Prizren, Dujkovic said it made no sense for the police to take away documents from Kosovo Albanians. Even without their passports, they could return to the country and apply for new papers.
In his cross-examination, the prosecutor showed an official record taken by Lieutenant Ognjenovic, where he reports Albanian women and older civilians told him that police officers from Prizren took away their identity cards. As the record was sent to the Border Police Administration in late March, the prosecutor asked Dujkovic what he and his colleagues had done about that. 'I don't remember that we did anything. I don't know if this document reached Belgrade at all', Dujkovic replied.
The trial of Milan Milutinovic, Nikola Sainovic, Dragoljub Ojdanic, Nebojsa Pavkovic, Vladimir Lazarevic and Sreten Lukic continues tomorrow with the evidence of another defense witness called by the police general.