Home
SAVING REPUTATION OR FINDING THE TRUTH?
Prosecution implies Sofia Galeva, former advisor in the office of the interior minister Ljube Boskoski, gathered materials about the Ljuboten case in order to defend the reputation of the minister who was under flak in the media and from international NGO Human Rights Watch for his alleged responsibility for the murders of Albanian civilians in the village of Ljuboten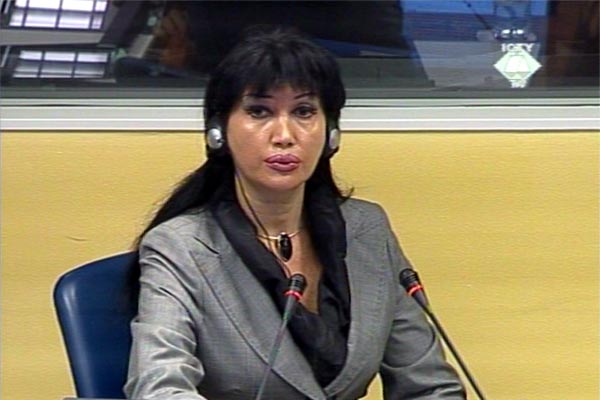 Sofija Galeva, defense witness for Ljubeta Boskoski
In his cross-examination of Sofia Galeva, the prosecution put it to her that her job was not to establish the truth about what happened in the village of Ljuboten as Ljube Boskoski's defense claimed. Instead, she had to gather the 'material that was to be sent to the Tribunal', the prosecutor alleged, adding that her task was to 'protect the reputation of minister Boskoski and the Interior Ministry'.
The first witness testifying in Boskoski's defense, former advisor in his ministry, replied that those claims were only partly correct. According to her, Boskoski wanted to know what had happened in Ljuboten and to identify those responsible regardless of the consequences. Boskoski wanted to contest the allegations in the Human Rights Watch report about Albanian civilians who were killed in Ljuboten on 12 August 2001, the houses that were burned down and the physical and mental abuse of the villagers.
The prosecutor showed the witness two segments from a BBC TV report and a New York Times article from August and September 2001 where it says that the interior minister 'has strenuously rejected the accusations of the HRW', defending 'the national interest of the Macedonian people' and calling the HRW 'a mercenary organization'.
'The minister never said anything of the sort in my presence and the presence of other colleagues,' Galeva said. When the prosecutor asked her if she herself considered the HRW activists mercenaries, she didn't give a direct answer. She said that she thought the data she had found in their report while she collected the material on Ljuboten is 'improbable'. The HRW, she added 'spreads disinformation'. Its motives for doing so are unknown to her.
The defense started the additional examination of the witness. The witness is expected to complete her testimony on Monday afternoon.