Home
DEFENSE: 'DISCIPLINE FIRST'
In an effort to prove that all PJP members treated civilians in Kosovo professionally, former police officer from Pec testifying in General Sreten Lukic's defense, claims that a colleague was removed from the unit just because he had robbed a tobacconist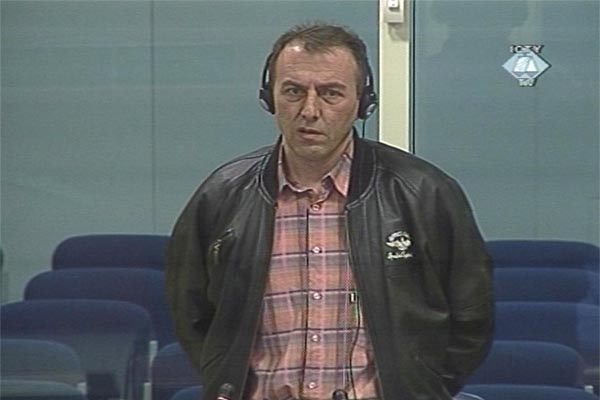 Radojica Nikcevic, defene witness for Sreten Lukic
Although the six former Serbian politicians and generals are on trial for crimes committed by the army and the police against Kosovo Albanians in 1999, Sreten Lukic's defense mostly presented evidence on crimes the KLA committed against Serbs and Albanians in the course of the testimony of Radojica Nikcevic, former member of the PJP in Pec. The witness didn't mention a single PJP action resulting in crimes against Kosovo Albanians, as the indictment alleges.
In Nikcevic's words, the KLA did not just kill and kidnap civilians: it had a 'special strategy' for them. After their terrorist attacks, the KLA members would hide in villages to provoke the police into attacking them, to create the impression that the Serbian security forces were guilty of repression against the population. The defense's argument that Albanians moved out of Kosovo under the pressure from the KLA was corroborated by Nikcevic's claim that he had seen Adem Demaqi, KLA's political leader, on Albanian TV calling on his fellow Albanians to leave their houses in order to provoke the international community into reacting.
On the other side, there were no police crimes in Kosovo, the witness said. His PJP unit from Pec in particular didn't participate in any criminal activities. On the contrary, he said, the police did everything it could to maintain law and order. Before every action, they were ordered to treat the civilians, the wounded and the prisoners in an 'absolutely professional manner'. Describing the strict discipline in the Pec PJP, the witness mentioned a case of a police officer by the name of Nebojsa Minic. The only thing he did was to rob a tobacconist; he was removed from the unit in the summer of 1998.
The defense has so far argued that the accused Sreten Lukic as the head of the MUP Staff for Kosovo didn't have the authority over special police units and other police formations in the field. Presiding judge asked Radovan Vucurevic, former member of the Staff who completed his evidence this morning, about the actual purpose of this body. If it didn't command units in the field or at least coordinate their activities, what did it do, the judge asked. 'Well, that I don't know either', the witness replied prompting the judge to conclude that it was a 'real mystery'.