Home
BOTH ARMY AND POLICE RENOUNCE VOLUNTEERS
When the witness called by police general Sreten Lukic's defense tried to shift the blame for the crimes committed by the irregulars indirectly to the army, the defense of military general Nebojsa Pavkovic showed him a document in which the interior minister ordered the MUP Staff for Kosovo to 'put volunteer and paramilitary units under its control for possible future deployment'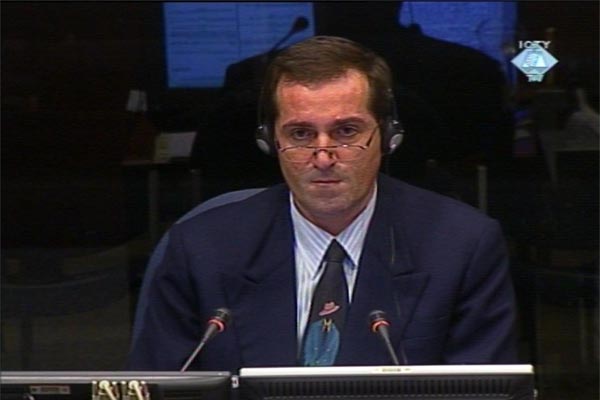 Radovan Vucurevic, defense witness for Sreten Lukic
'Sreten Lukic, head of the MUP Staff for Kosovo, was not the first man of in the Kosovo police in 1998 and 1999 – this was Obrad Stevanovic, the then deputy interior minister and commander of the PJPs, special units of the police', said Radovan Vucurevic, witness testifying for the defense of Sreten Lukic. Vucurevic was a member of the MUP Staff until 29 March 1999, when he was wounded in a NATO air strike and was withdrawn from this post.
Vucurevic denied that the MUP Staff had any command authority, claiming that all police units in the province were commanded from the headquarters of republican MUP in Belgrade. According to him, the 16 June 1998 decision to establish the staff, stipulating that this was the body responsible for 'the planning and managing of police actions in the field' was never implemented in practice. The document establishing the Staff inaccurately includes Milorad Lukovic Legija, commander of the Special Operations Unit, and Zivko Trajkovic, first man of the Special Anti-terrorist unit, as members. Vucurevic wasn't able to explain how the interior minister could make such gross errors in a document as important as this one.
The witness denied the prosecution's allegation that the police participated in the expulsion of Albanian civilians and the destruction of their identity cards to prevent them from coming back. This would be senseless, Vucurevic clarified, as every citizen of Serbia could go to the FRY embassy in Tirana or Skopje and get temporary travel documents to return to the country. On their return, they could easily get an ID card because the police kept records on every citizen, he said.
The police didn't exercise command over the irregular formations in Kosovo, Vucurevic said, adding that the volunteers fought only under the command of the army. This provoked the defense counsel of Nebojsa Pavkovic, former commander of the VJ 3rd Army, to respond. In his cross-examination, he showed Vucurevic several documents. The first document was a paper dated 18 February 1998 in which Vlastimir Djordjevic, chief of the Public Security Sector, asks the MUP Staff to 'ensure the control over the volunteers and paramilitary units by intensifying intelligence efforts and other activities'.
Vucurevic explained that this was a 'preventive order'; the goal was to prevent the emergence of irregular formations in Kosovo. Pavkovic's counsel Ackermann then showed him another document signed by interior minister Vlajko Stoiljkovic on 24 March 1999, ordering the Staff to put all volunteers and paramilitary formations under its control 'with a view to their possible deployment'. Vucurevic refused to comment on this document, saying that he wouldn't want to speculate about something he had never seen before.