Home
TWO VERSIONS OF EXODUS FROM PRILEPNICA
Testifying as police general Sreten Lukic's defense witness, Dusan Gavranic says the police secured the convoy of Albanians leaving the village of Prilepnica near Gnjilane. 'Nobody could have convinced them to stay', he says. The man who led the convoy testified for the prosecution that he had been beaten up on that way to the border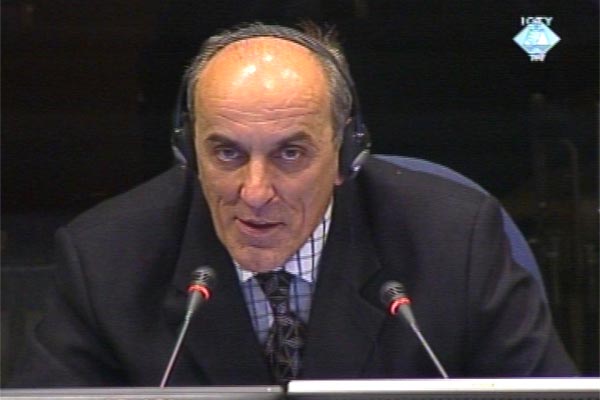 Dušan Gavranic, defense witness for Sreten Lukic
As he continued his testimony in the defense of police general Sreten Lukic, Dusan Gavranic, former chief of the Gnjilane Secretariat of the Interior, recounted his version of the events in the village of Prilepnica near Gnjilane in the first half of April 1999. The indictment against the six former Serbian officials on trial for crimes against Kosovo Albanians contends that on 6 April 1999, the Serbian security forces entered the village ordering the inhabitants to leave, only to turn them back once they were well on their way. On 13 April 1999, the indictment alleges, the inhabitants of Prilepnica were once again told they had to evacuate. They fled to Macedonia in a convoy of five hundred vehicles.
The timeline Gavranic presented today is consistent with that outlined in the indictment. However, according to him, the army and the police in particular had nothing to do with the evacuation of the Albanians from the village of Prilepnica. On 6 April 1999, he said, the village
imam
Abdulhaqim Shaqiri turned to him for help, saying that the soldiers had ordered them to leave Kosovo. Gavranic immediately checked the allegation, but senior military officers kept assuring him that the army had not entered the village. Gavranic then sent a police patrol to order the column already on its way to Vranje to return to the village.
The population of Prilepnica barely had time to settle down a bit when NATO launched intensive air strikes against the military positions around the village, Gavranic said. The people were alarmed and decided to leave Kosovo for good on 13 April 1999. As 'nobody could convince them to stay', Gavranic said that he had decided to assign a police patrol to ensure their safety on their way to the border.
Imam
Shaqiri testified for the prosecution at the trial of the Kosovo Six in September 2006. In his words, the police protection was not very successful because he was beaten up on the way to the border. In his cross-examination, the prosecutor showed Gavranic the statement in which Shaqiri said that the village had been burned down to the ground after its population had been expelled. Gavranic knew that a few houses had been burned down, he said, claiming that the charges were pressed against the perpetrators.
He admitted that these were just some of the 184 crimes committed by Serbian soldiers, police officers and civilians against Kosovo Albanians in the area controlled by the Gnjilane Secretariat of the Interior. According to the witness, there were fifty-six murders and criminal reports filed against the majority of the perpetrators. Disregarding the numerous cases of looting, murder, arson and other crimes, Gavranic maintained that the Albanians were leaving only because they were afraid of NATO air strikes.