Home
PROSECUTION ASKS FOR LIFE FOR GENERAL MILOSEVIC
In the appellate brief, the prosecution calls for life sentence for General Dragomir Milosevic. In the judgment delivered in December 2007, the Trial Chamber sentenced former SRK commander to 33 years in prison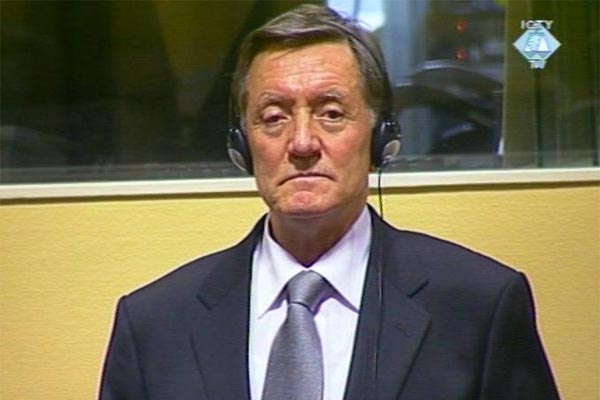 Dragomir Milosevic in the courtroom
In the Dragomir Milosevic case, the prosecution has filed its appeal against the judgment delivered in December 2007. Milosevic, former SRK commander, was sentenced to 33 years in prison for murders and inhuman acts committed in the course of the five-month sniper and artillery terror campaign against the civilian population of Sarajevo, from August 1994 to late 1995. In the appellate brief, the prosecution called this sentence 'clearly insufficient', calling for life sentence for general Milosevic.
In the appeal, the prosecution notes that Stanislav Galic, Milosevic's predecessor at the post of the SRK commander, was sentenced to life for the first round of sniper and artillery terror campaign against the citizens of Sarajevo. Galic commanded the SRK from the start of the war until August 1994. As Galic's deputy, Milosevic was aware of the terror campaign conducted by the SRK against the civilians of Sarajevo, the prosecution notes. Once he was appointed the corps commander, Milosevic continued the campaign, 'with greater intensity, accuracy and cunning'.
Sarajevo, the prosecution recalled in its brief, was constantly targeted by snipers and artillery. Its civilians were nothing but 'stool pigeons' targeted by the SRK. Lack of water, food and electricity resulted in mental and physical exhaustion of the citizens, who 'lost the will to live'.
According to the prosecution, Milosevic had full control of sniper and artillery attacks. Instead of implementing a better strategy than his predecessor, Milosevic merely 'improved' it introducing a new weapon – modified air bombs 'made to instill terror' among the civilians.
The prosecution also states that Milosevic's voluntary surrender could not be taken as a mitigating circumstance. Milosevic surrendered more than three years after he was indicted. In conclusion, the prosecution called for life sentence for Milosevic.